Hiking and backpacking are great ways to get exercise, fresh air, and get out into the natural beauty this country has to offer. They can also be dangerous experiences, as the back country has no shortage of predators…two legged and four legged.
Understanding that the world can be a dangerous place, here's a guide on how to carry a gun while backpacking.
Choosing the Best Gun for Backpacking
The first thing you need to do is understand what your potential threats are and where you're planning on backpacking. Are you more likely to encounter mountain lions and bears, or are you worried about attacks by unstable humans? If it's the latter and wild animals aren't a concern, pretty much any decent CCW pistol will suffice, and to be honest, I don't think a mountain lion would laugh at a face full of Federal HSTs.
If you're concerned about dangerous animals, the answer is almost always going to be some sort of magnum revolver. 44 Magnum remains the king of the backwoods, but if you're looking for something slightly smaller, a good 357 Magnum loaded with heavy bullets will get the job done as well.
How to Carry a Gun While Backpacking
Once you select your gun, you need to figure out how you're going to carry it. You've got two options:
On body carry

Off body carry
Off body carry means putting the gun in a pack or bag, and right up front that's a bad idea. Off body carry means that when you actually need the gun, you're going to have a hard time accessing it. A lot of bear attack stories have a line like this in them: "the victim tried to get his gun out of his backpack but couldn't because the bear was murdering him." Off body carry is a last resort, if you've tried everything else and nothing works.
Luckily, smart companies have created plenty of great options for on-body carry.
Best Outside the Waistband Holster for Backpacking
I've walked hundreds of miles carrying a pistol at the appendix position, but I wouldn't recommend that for long range backpacking. The best solution is an outside the waistband belt holster, and for hiking around I'd recommend something with a little bit of retention. You don't want to take a tumble and lose your gun into a river, right? For semi-auto pistols, the Safariland ALS line of holsters fits well into this niche. They're not huge, and they're not overly heavy.
For revolvers, I like the Galco Phoenix holster, as it combines comfort, retention, and ease of use.
One of the problems with belt holsters is that they create a weight imbalance around your hips, which after 5 hours of rucking you will notice. We can fix this two ways: place some piece of equipment on the opposite side of the holster to balance the gun's weight. If you have a survival radio that's a good item to place there, or a water bottle would work. Or, you could cut the belt holster entirely and go for a chest rig.
Best Chest Holster for Backpacking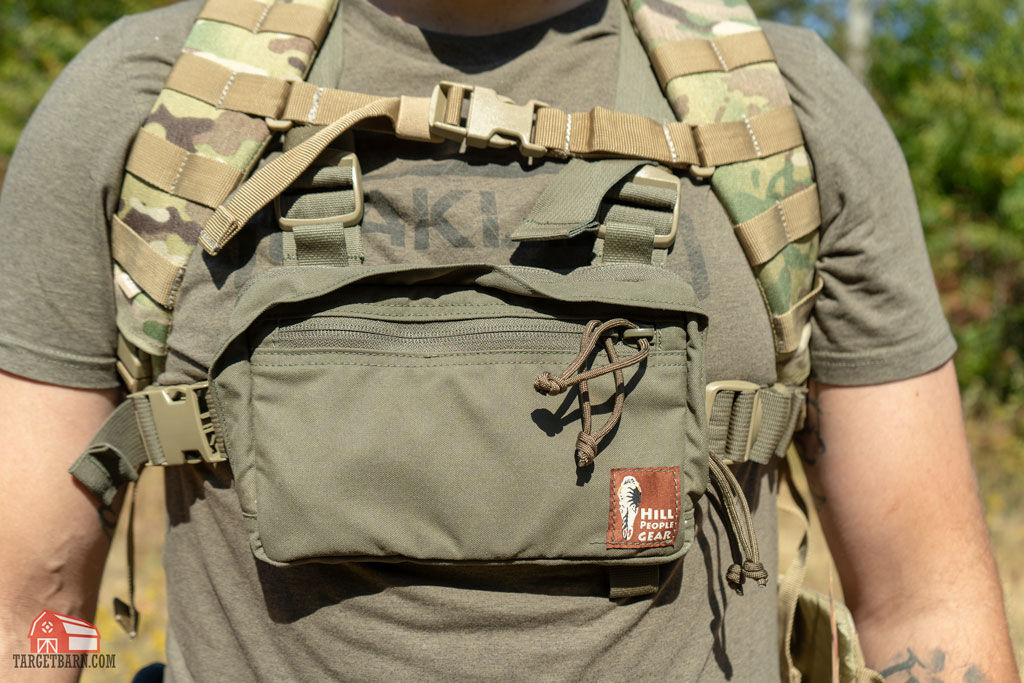 The best recommendation for a chest rig is the Hill People Gear Kit Bag. HPG has a bunch of models of the Kit Bag, but in general it's a small bag worn across the front of your chest that has a quick access compartment for your pistol. The nice thing about an HPG Kit Bag is that it completely hides the gun from view. If you meet other hikers, they won't know you're armed.
The Kit Bag is slower on the draw than a holster, but still faster than off-body carry. It also helps counterbalance the weight of your ruck.
Load Up and Take a Hike
As you can see, concealed carry, and carrying a gun in general, isn't impossible when you're hiking or backpacking. Again, off-body carry is a choice of last resort. When you can choose between excellent belt holsters or concealment bags like the HPG Kit Bag, there's no reason to make your gun even harder to get. Have you googled how a bear eats you? It's not pretty, so I'll keep my magnum handy.