The Gear Top Level Shooters Use
Each year, the United States Practical Shooting Association and the International Defensive Pistol Association host their national competitions. As part of the festivities, they get some of the best shooters in the world together and gather some key intel - what gear and equipment they use!

If you are a member of either of these organizations, you might already have the following information. However, if you are new to shooting handguns, or even an experienced shooter who's never shot in actual competition, the following information might help guide you in purchasing the correct guns and gear to begin your journey into the fun sport of competition shooting.
Gear Used at the IDPA Nationals
Since the guns used in IDPA competition are generally more in line with what you might take to the range for plinking, or what you might carry concealed, we will focus mostly on guns and gear for the IDPA Nationals. When it makes sense to prove a point, I'll also provide comparative information for similar equipment used in the USPSA tournament.
If you're not familiar with IDPA, the vast majority of shooters are using semi-auto handguns. Some are mostly stock, while others have some slight modifications allowed. There is a separate class for revolver shooters, so the six-shooters don't have to compete with the semi-autos that can start with 11 rounds in the gun. Far and away the most popular caliber in IDPA shooting is the 9MM, while those shooting a .45 ACP compete in a different class called CDP (Custom Defense Pistol). The USPSA differences are huge here, due to the higher power factor required in USPSA's Limited and Limited 10 divisions. 84 percent of the shooters in these two divisions are shooting guns chambered for 40 S&W, while the remainder use 9MM.
The IDPA compiles a treasure trove of survey data about ammo as well. According to 2019's survey, about 7 in 10 IDPA shooters have a CCW or CHL permit. (In 2016, that figure was about 5 out of every 6 shooters.)
What Ammo Do Top IDPA Shooters Use?
When it comes to ammunition used among those competitors, it's a pretty even split between shooters using factory loads or loading their own ammo. Among those buying ammo off the shelf, Federal leads the way with about 1 in 4 shooters relying upon it. Winchester, Sellier & Bellot and Fiocchi round out the top four at 10, 9, and 7% respectively.)
For those shooters loading their own rounds, Blue Bullets, X Treme and Berry's are the top three brands for
bullets
.
Of the nearly 1500 competitors at the most recent IDPA Nationals, Glock, CZ, Smith & Wesson and Sig Sauer dominated in weapons used. Thirty percent of shooters used Glocks, while 21 percent chose Smith & Wesson. Springfield Armory was next with 12 percent, while many other brands made up the balance. The most recent survey data doesn't include models of pistols from each manufacturer. In 2016, IDPA reported the most popular model as the Glock Mod. 34 in 9MM, with the S & W M&P Pro in 9MM being the second most popular. Here also, USPSA had significant differences, with STI being the most popular brand in Limited and Limited 10 divisions, followed by Glock, SV Infinity, and Springfield Armory. Smith & Wesson is way down the list for USPSA shooters.
Gear at USPSA Nationals
Competition holsters are another area with significant differences. The top three in IDPA were Comp-Tac, Blade-Tech, and Safariland, while the top three in USPSA were Double Alpha, Blade-Tech, and Safariland. Of the IDPA competitors that also carry concealed weapons, the vast majority of them carried 9MM handguns, either the S&W Shield or the Glock 19. Both shooting organizations allow custom sights, and Dawson Precision was the sight of choice by a large margin. USPSA's survey states that fully 95 percent of shooters are using a fiber optic front sight, probably green or red in color!
For both organizations, hand loaded ammunition makes up 70-80 percent of the rounds fired, while factory ammo is the other 20-30 percent. On the handloaded ammo, USPSA shooters prefer jacketed bullets, while IDPA shooters mostly used moly coated or copper plated bullets. One thing that most all hand loaders agreed on was their choice of reloading equipment. Dillon Precision was the choice with 92 percent of the USPSA shooters and 82 percent of the IDPA shooters! Quite a mandate if you choose to reload your own ammo!
There you have the stats! Now get out there, buy the right equipment for your style of shooting, and have some fun on the range.
Be safe, shoot straight.

Dave
Gear Used in Open Division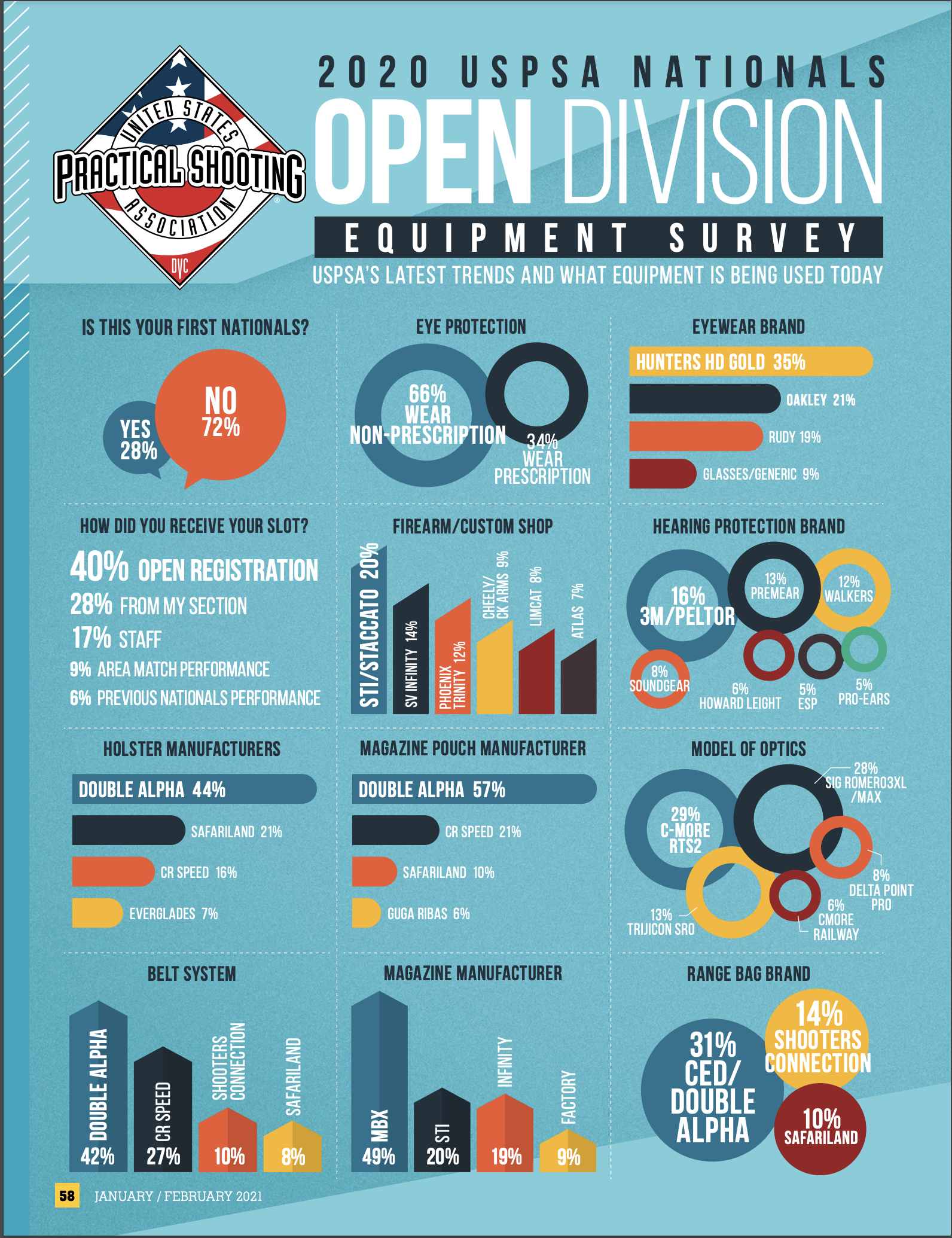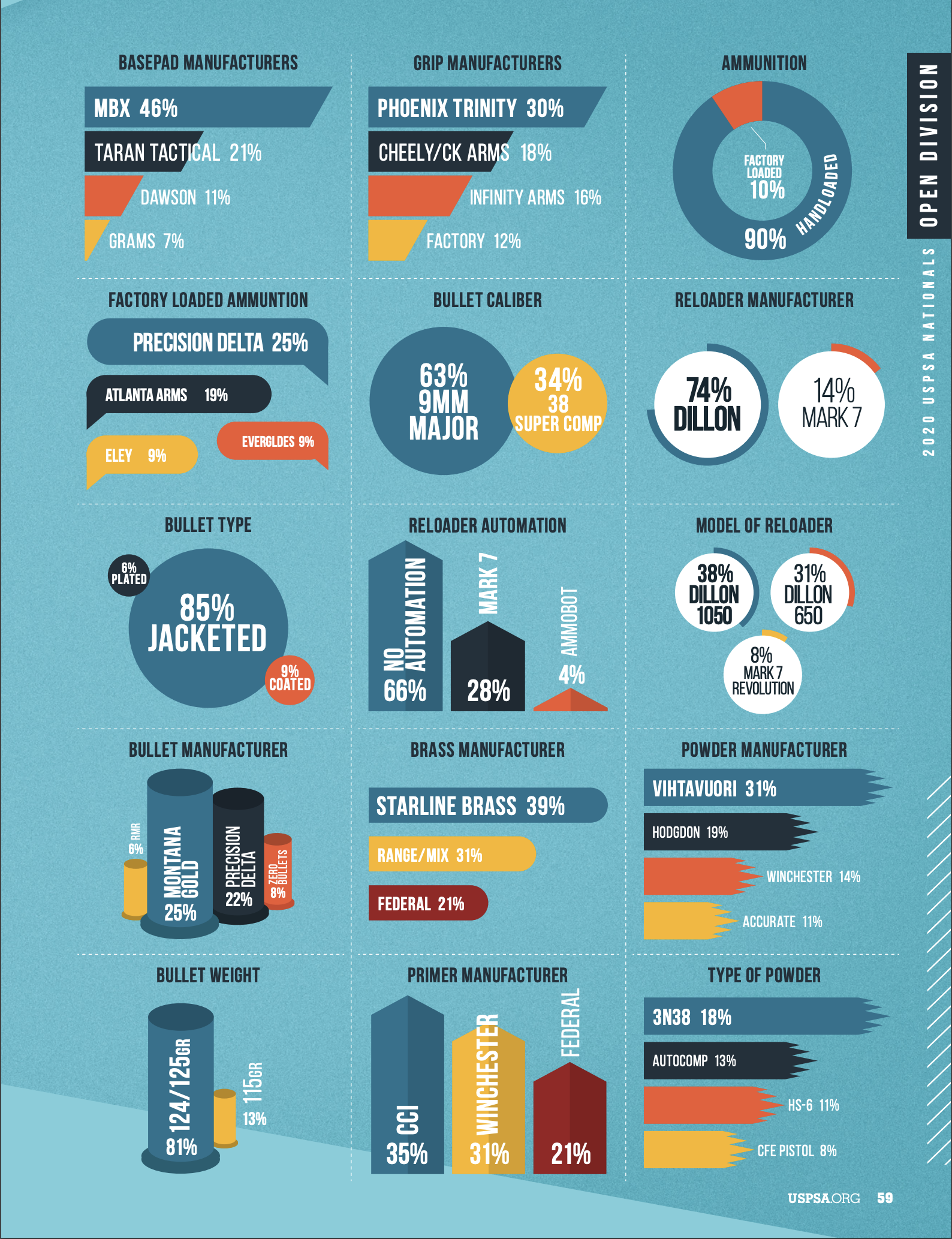 Limited Division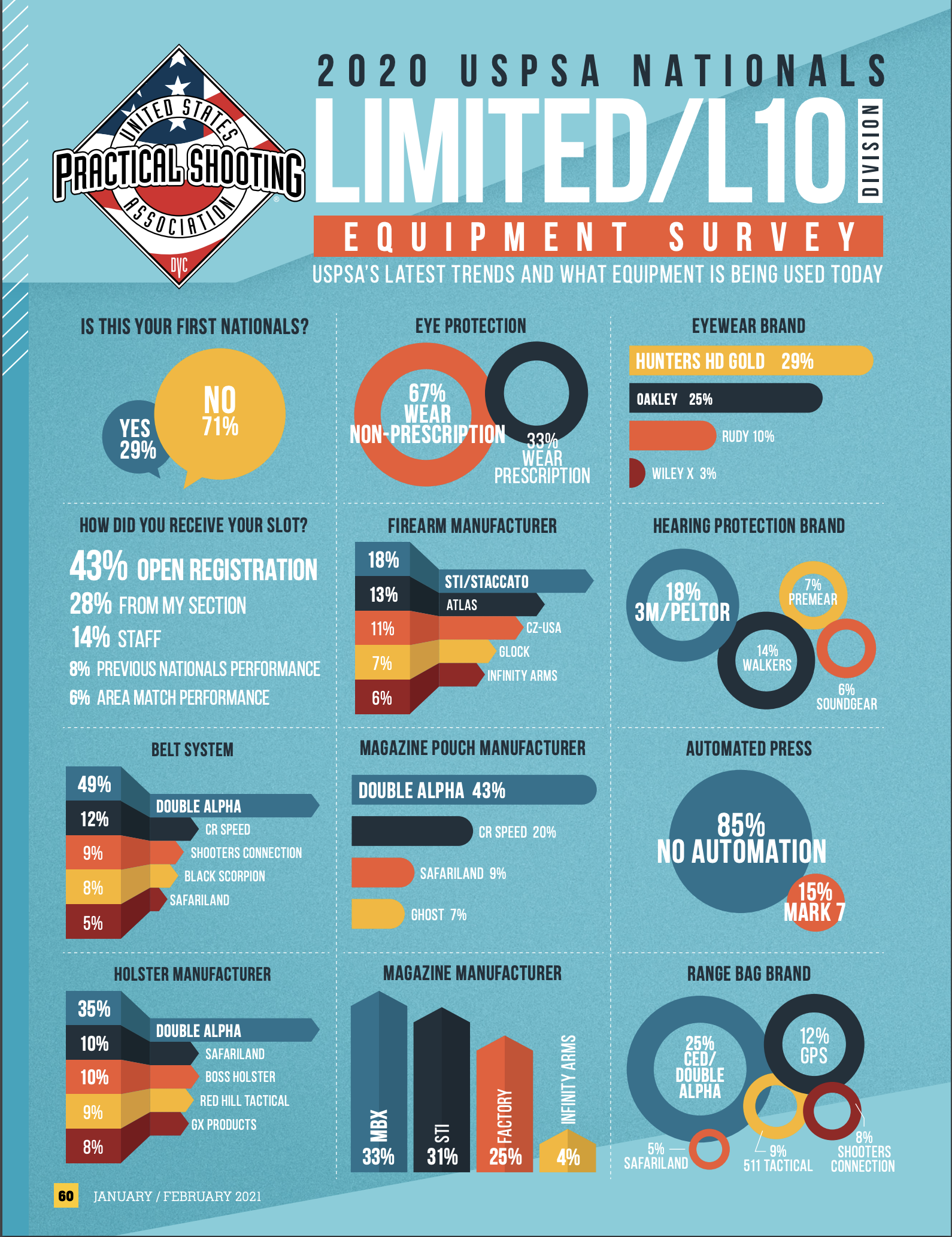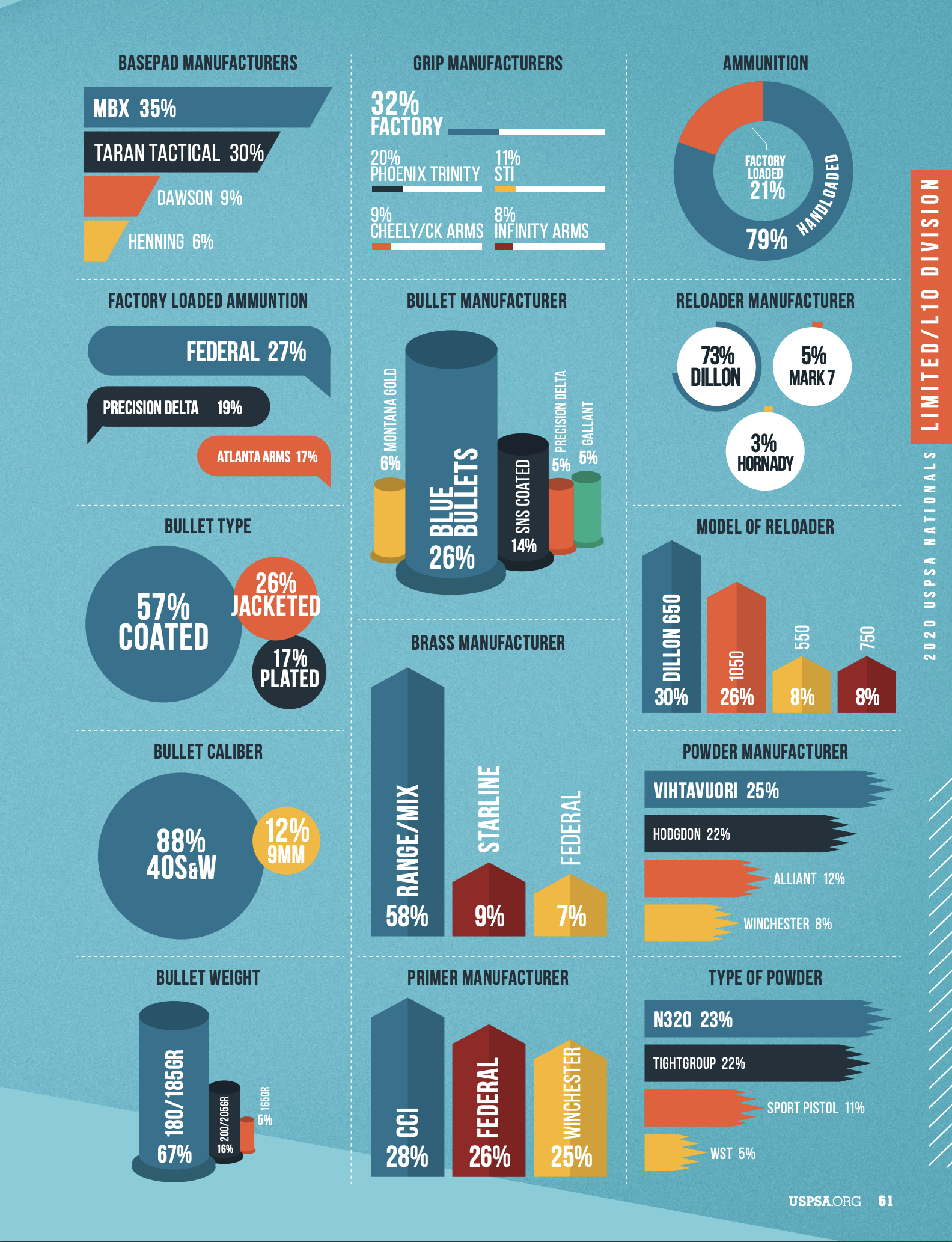 Production Division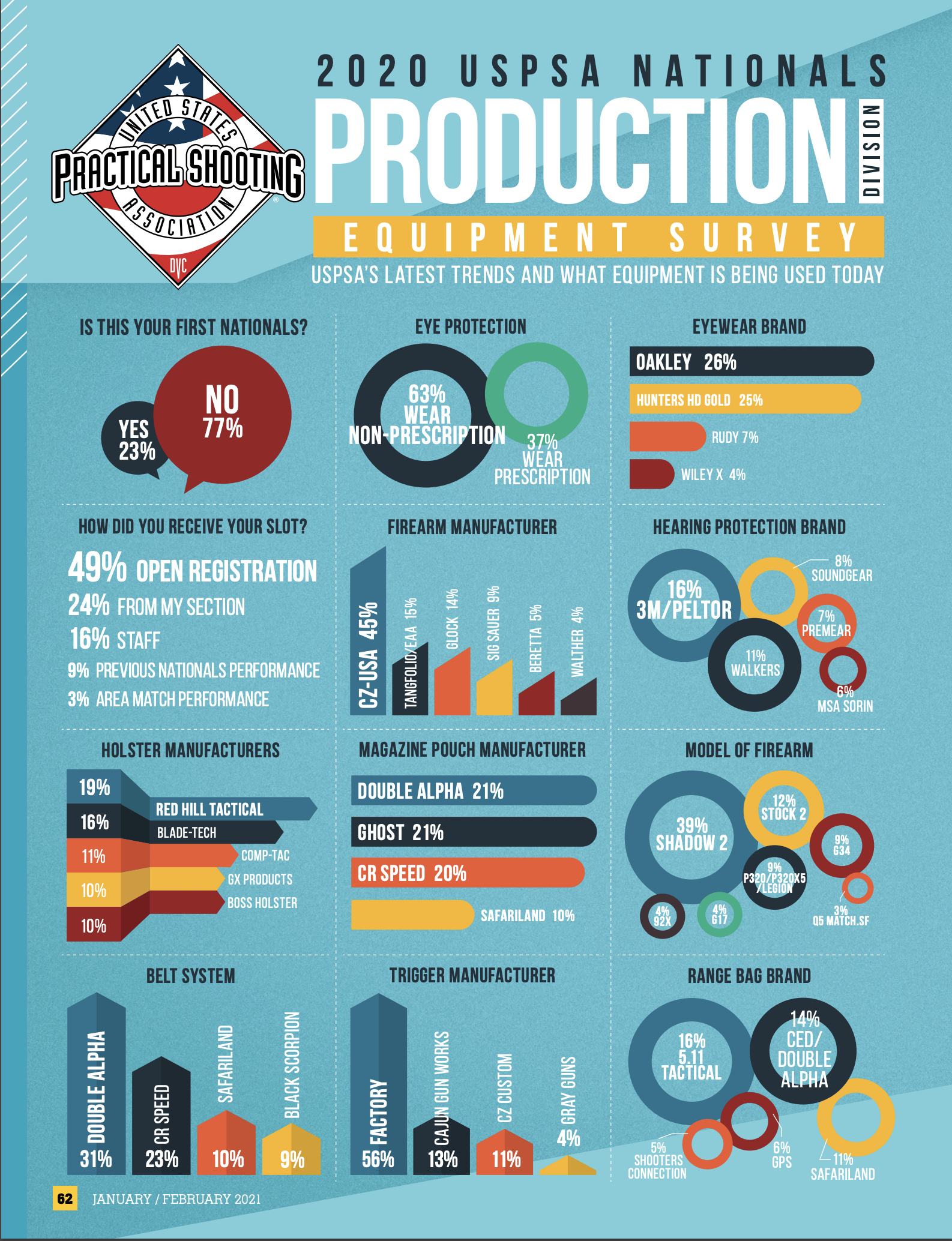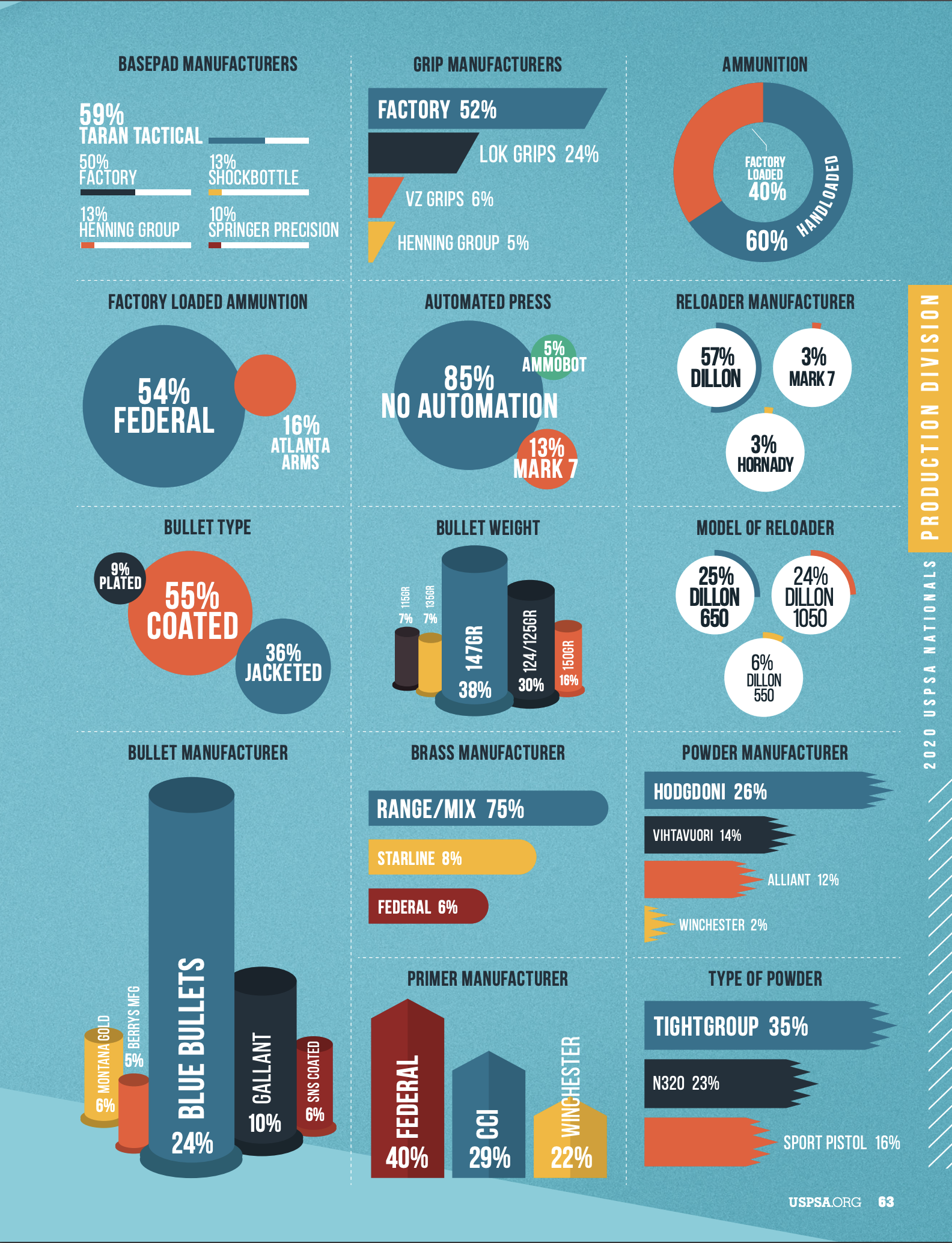 Pistol Caliber Carbine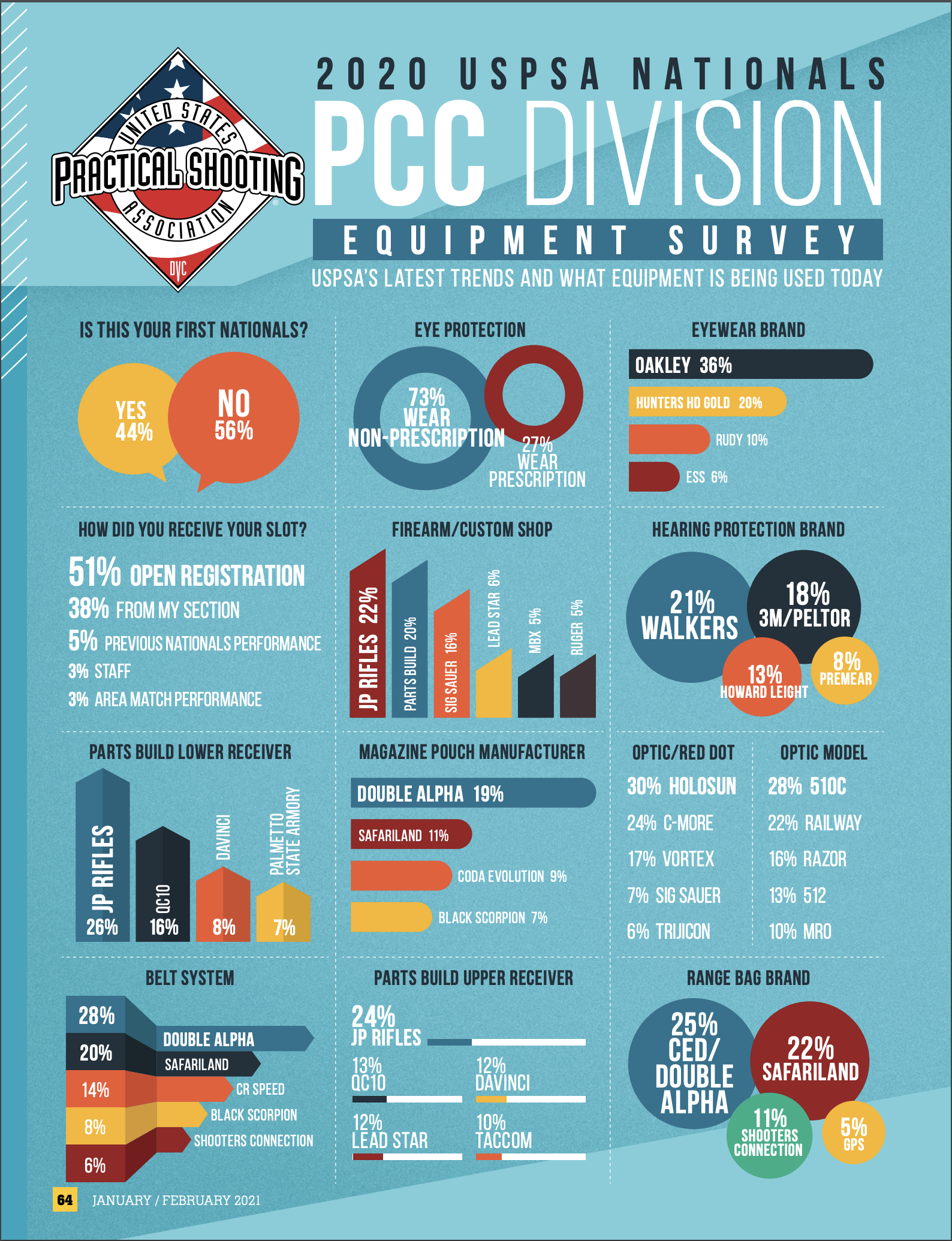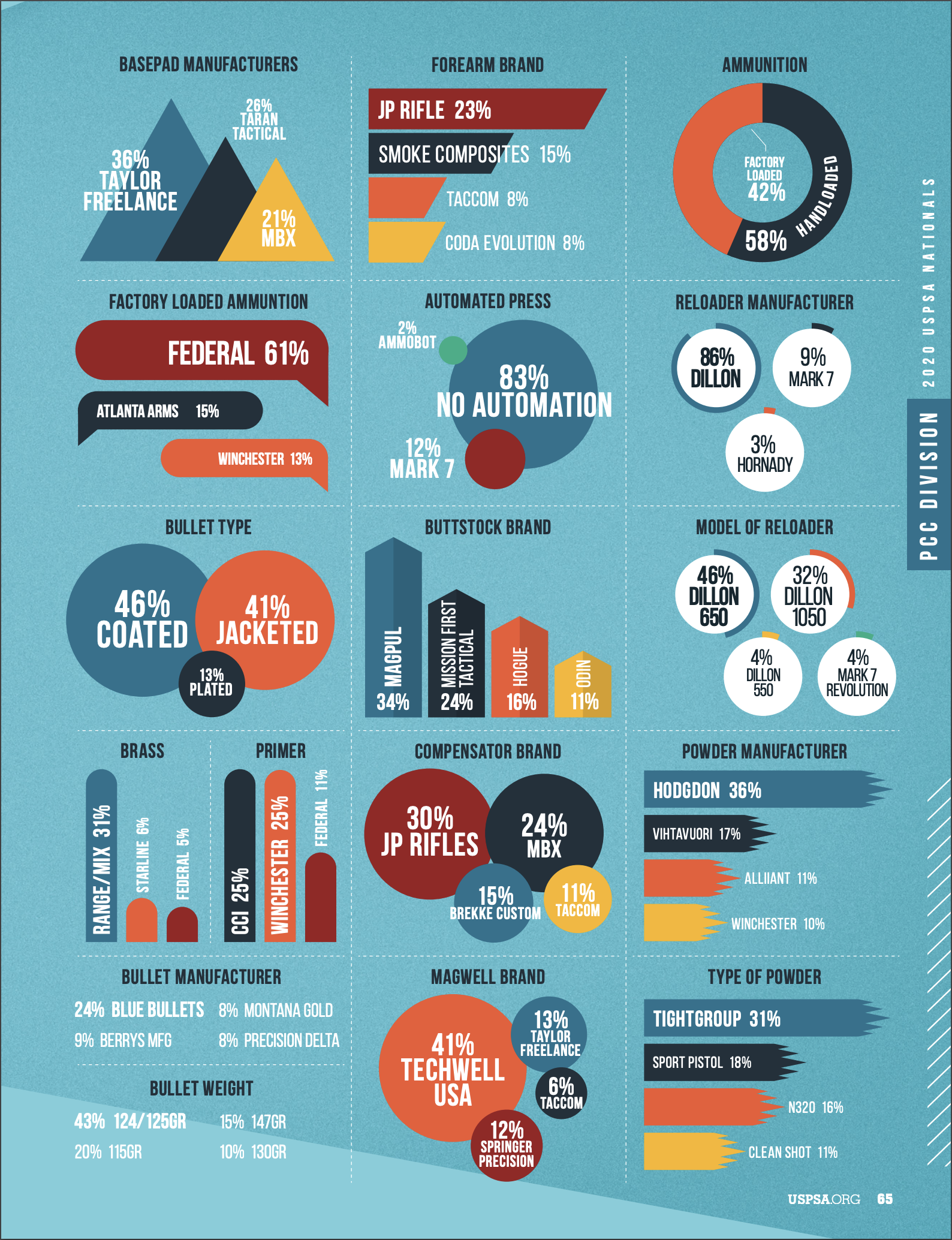 Carry Optics Division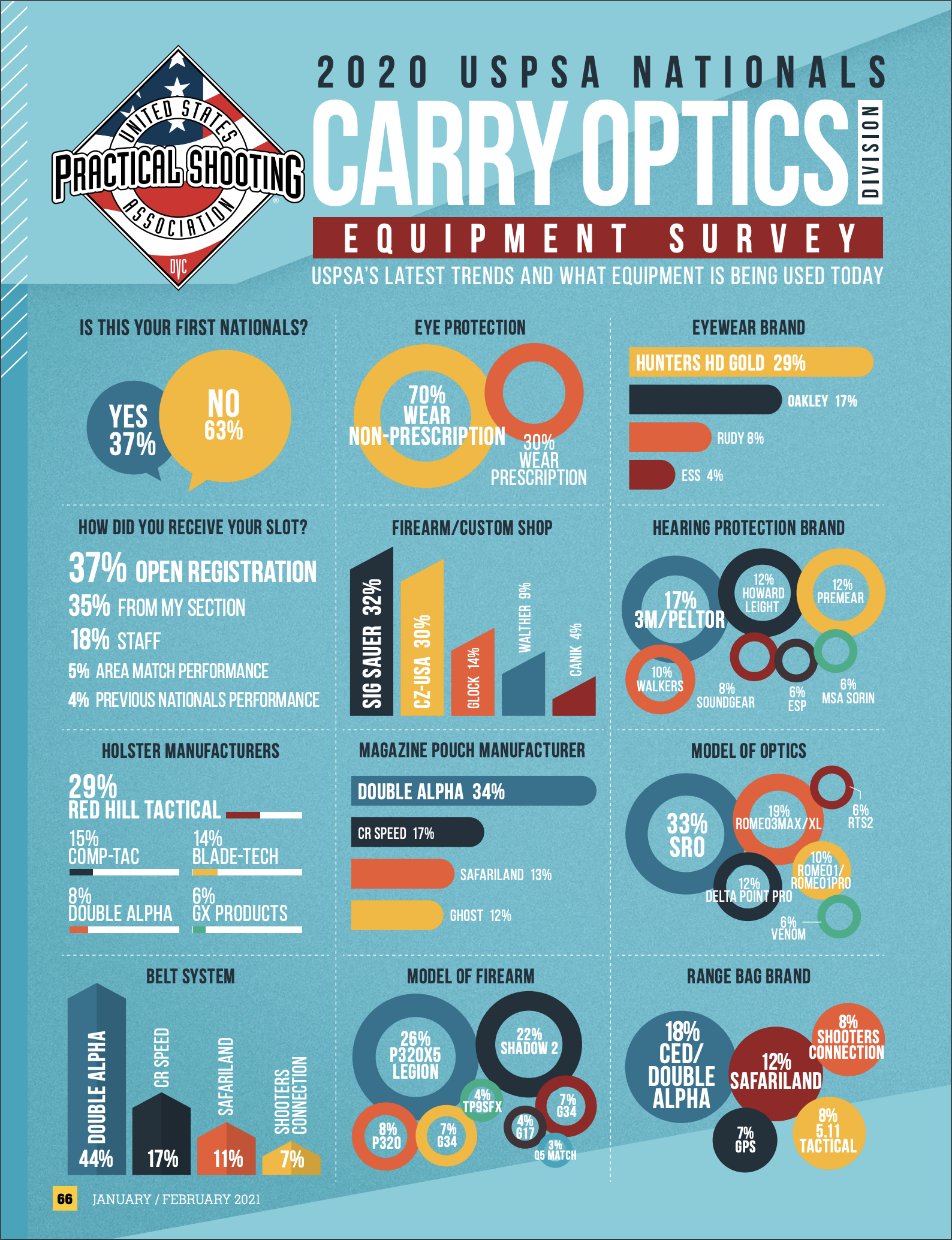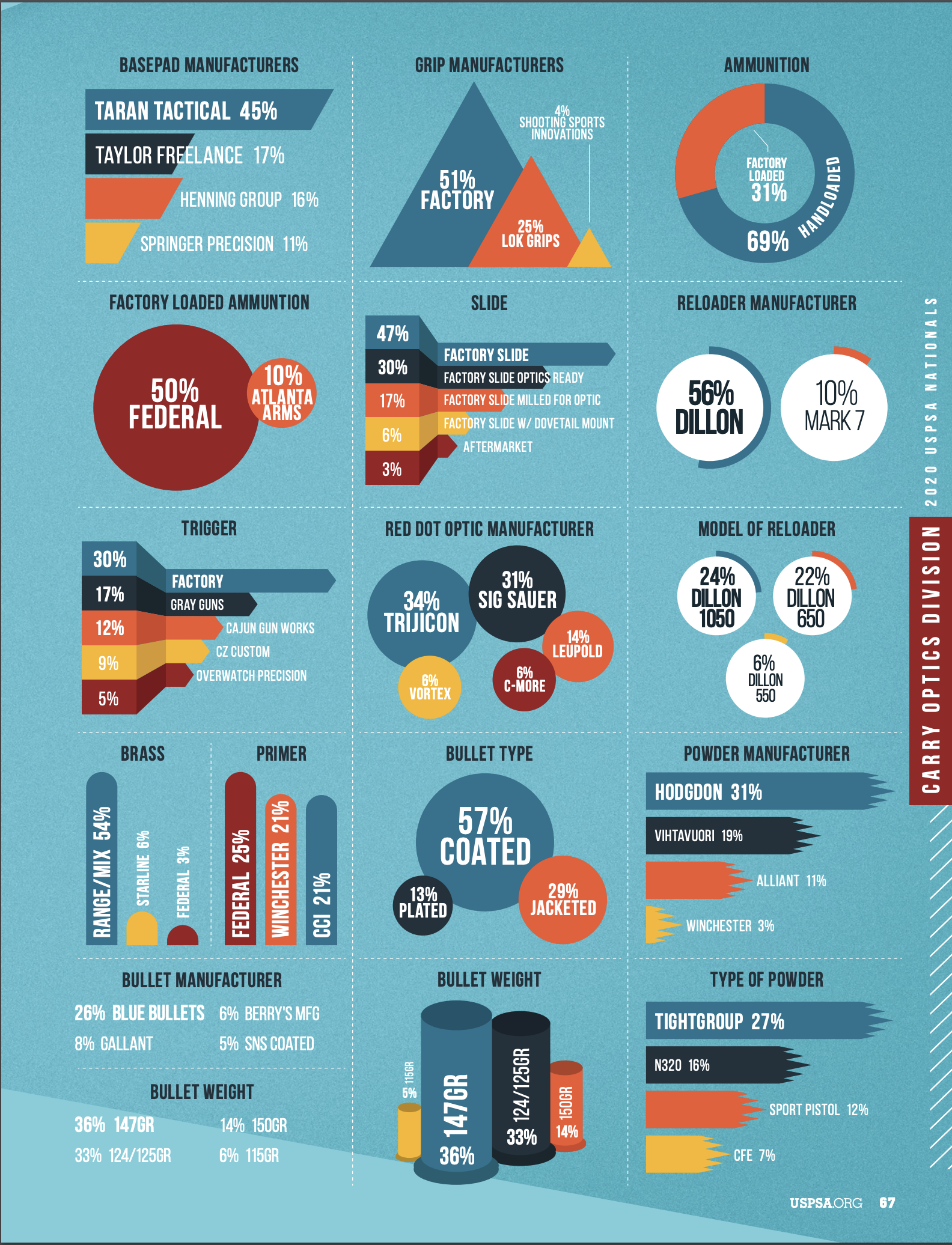 Single Stack Division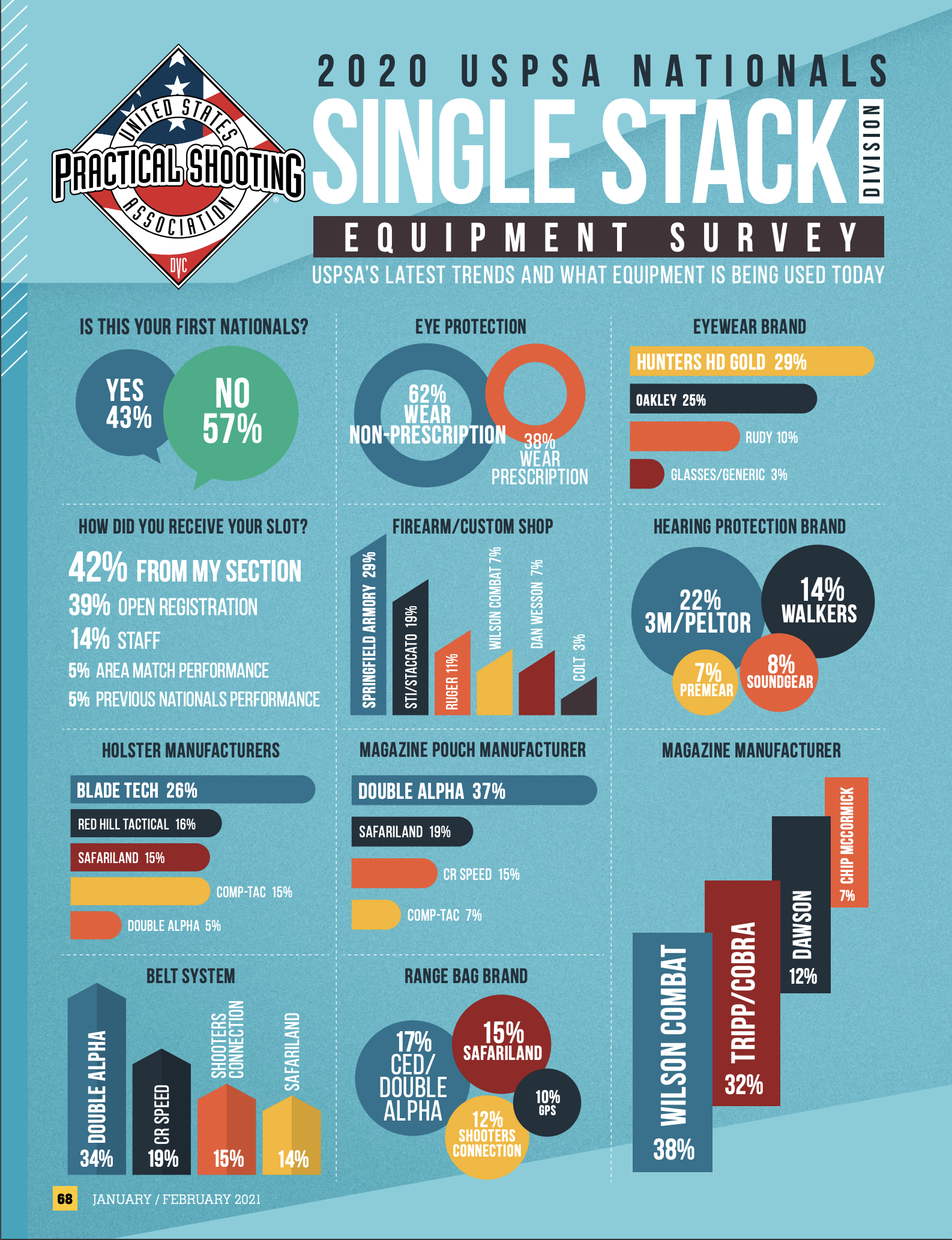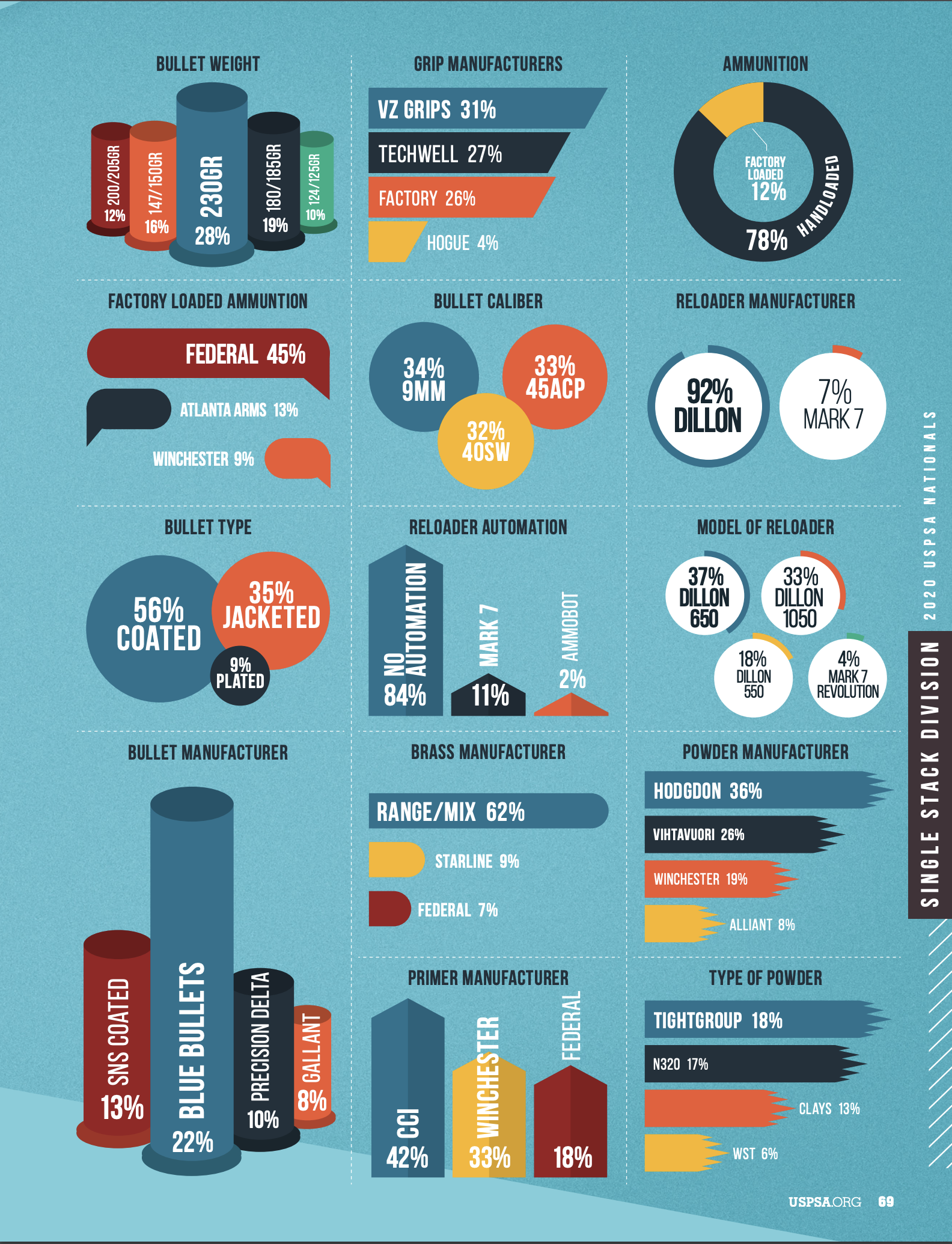 Revolver Division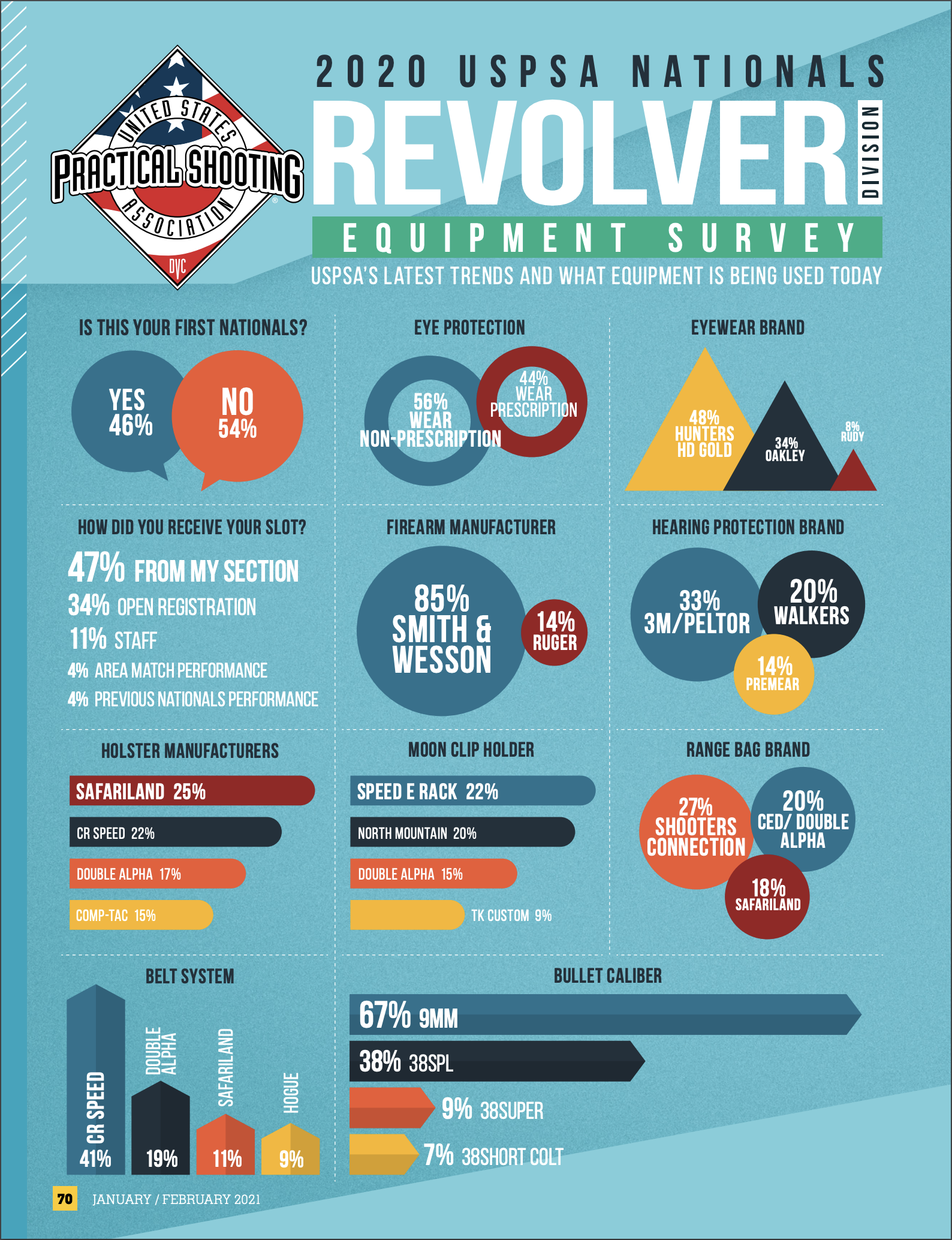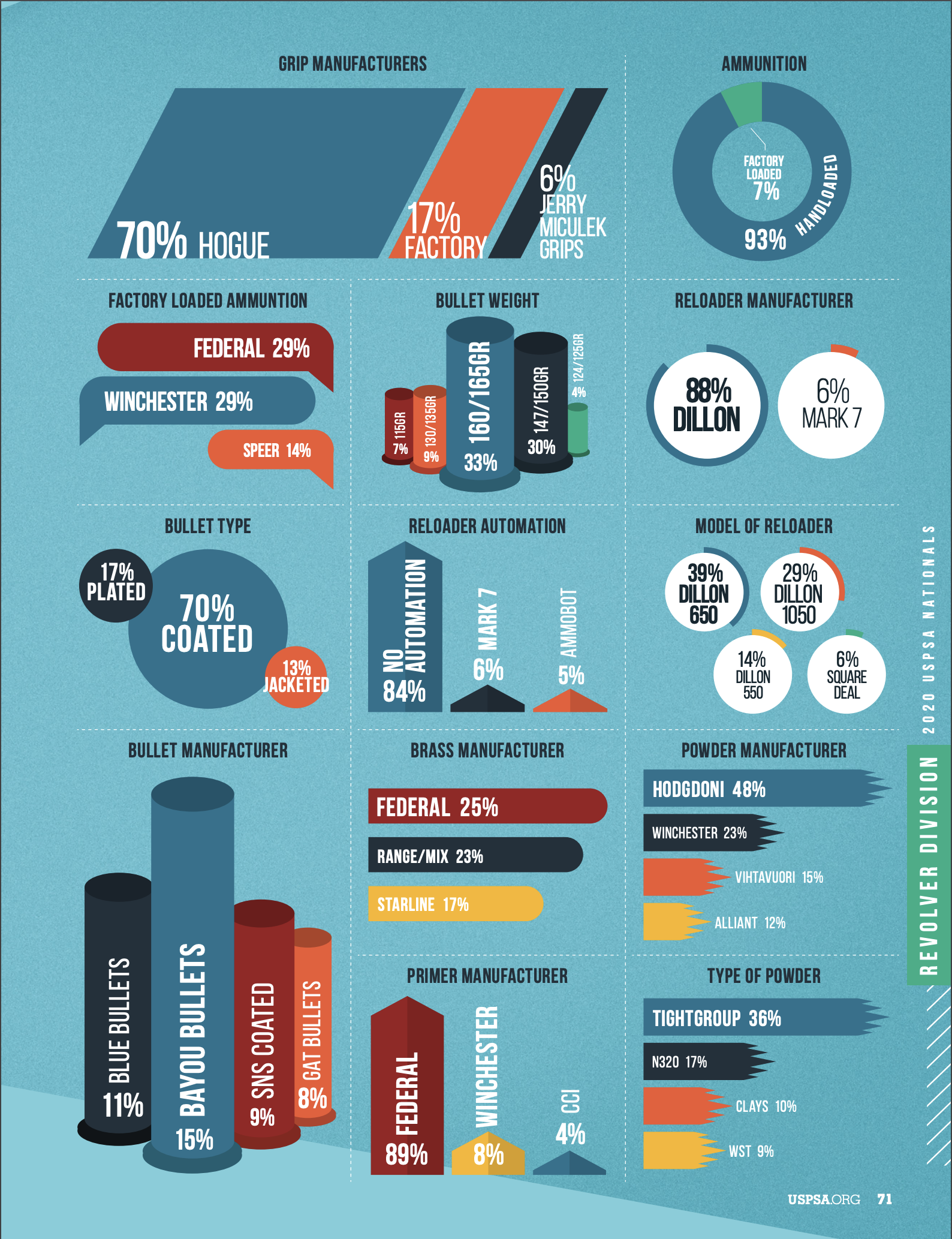 Source:
USPSA.org