We are a full time business serving shooters for over 30 years. Our customers include police departments, gun dealers, shooting clubs, colleges with Criminal Justice training programs, government agencies like the Army, Navy, FBI, and Secret Service, and of course individual shooters throughout the U.S.
As you could probably already tell. We are lucky to have a lot of competitive shooters that we can call friends and customers. New to competitive shooting? We're happy to answer any questions you might have.
In fact, if you're just getting started with competitive shooting, be sure to check out this guide outlining Power Factor here.
Our specialty is manufacturing the highest quality cardboard targets used in various action-shooting disciplines and police training. These targets are all made from brand new sheets of corrugated board; not the recycled cardboard boxes used by some competitors. New corrugated board offers better strength in severe weather or rough handling, and produces cleaner holes for easier scoring. All targets are boxed to reduce the chance of damage during shipping.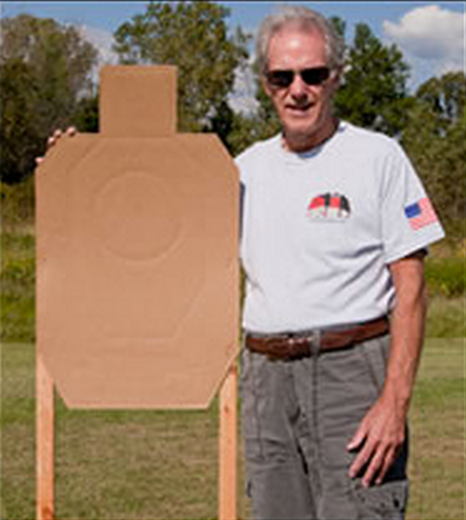 Dave Zimmerman
Founder
We are licensed to produce targets for the following organizations, and pay them a royalty on each target sold:
United States Practical Shooting Association

International Defensive Pistol Association
In addition to our line of cardboard targets, we stock a wide variety of paper targets for both pistol and rifle shooting, and police training and qualification. We are a stocking distributor for NRA official targets manufactured by National Target Company. We also stock a wide variety of ammunition for both new and competitive shooters.
Range Bulk Discounts: We are proud to offer additional discounts to our range customers who need to order their targets in bulk. Those discounts are as follows:
6–9 of any single product – 10% off price AND shipping!
10 or greater of any single product – 15% off price AND shipping!
These discounts apply to cases (100 count) of the following products only:
AP-1-CB cardboard targets
USPSA CLASSIC cardboard targets
IDPA cardboard targets
IPSC cardboard targets
NRA D-1 cardboard targets
IDPA and IPSC Repair Centers - C-O-M Trainer
The discounts for are automatically applied. However, if you are ordering greater than 25 cases of the above, give us a call to arrange for LTL (pallet-rate) shipping to you.
Target Barn is now proud to be a stocking distributor for the entire line of Competitive Edge Dynamics electronic range timers, chronographs, scales, and other related shooting accessories. Other products stocked include target pasters and patching tape in several colors and sizes, a new line of welded steel target stands in six different styles, and lots of ammunition and reloading supplies! In short, we have everything you need for practice and for competition.
Thanks very much for your support. Please contact us if you have suggestions to improve this website or other products you would like to purchase from us.
Dave Zimmerman
Founder