"This is a ghost gun. This right here has ability with a .30 caliber clip to disperse with 30 bullets within half a second. Thirty magazine clip in half a second."
-Senator Kevin de León (D-Los Angeles)
Imagine someone who knows diddly squat about firearms. It could be anyone, even an anti-gun senator from California. Still, we are willing to bet that de León knows what a Glock is. He might even think "Glock" is an umbrella term for handgun.
That Glock's name could become synonymous with handguns in less than four decades is impressive. Look at a cop today and there's a good chance you'll see one of the Austrian company's pistols on their belt. And while the civilian market initially resisted Glock's novel polymer-framed handgun, it has since become a favorite with the everyday carry crowd.
How did Glock do it? Austrian magic.
Let's take a look at Glock history to see how the firearms manufacturer rose to the top.
Gaston Glock History
Gaston Glock was born in Vienna in 1929. The engineer cut his teeth on manufacturing in a curtain rod factory before founding Glock Ges.m.b.H. in 1963. The company started out making knives for the Austrian military.
In 1980 Glock purchased a new machine for moulding polymer handles and sheathes, but he believed he could do more with it. He had not made a firearm up until that point, but after one year of practice he applied to patent the 9mm Glock 17 — his 17th patent. The handgun proved a great commercial success, and Glock was on velvet financially.
Glock History: Gaston's Personal Life
Success breeds enemies. In 1999 Glock's tax advisor sought a way to cover up the millions he had embezzled from the company. Naturally, he hired a hitman to beat the 73 year old magnate to death with a mallet. A man in full, Glock took several blows to the head before punching his assassin unconscious, knocking out some of his teeth in the process. The hitman and the villainous tax advisor both went to prison for their plot.
Glock married Helga Glock in 1963, but the two split in 2011 when Glock was 82. It was a nasty divorce which even involved a RICO lawsuit, but that didn't stop Glock from pursuing true love. In the same year he married his current wife Kathrin Glock, the nurse who helped him recover from a stroke in 2008. She is 53 years his younger.
According to Forbes, Gaston Glock is currently worth $1.1 billion and the 1,941st richest person on earth. Glock's lawyers objected to Forbes' valuation and ranking. We would like to have the same problems as Mr. Glock, minus the business with the mallet.
Glock History: Glock Ges.m.b.H. Takeover
Glock Ges.m.b.H. didn't create their foundational polymer-framed pistol just to see if it could be done. The company was already close to the Austrian Armed Forces when they announced in the early 80s that they wanted a modern handgun to replace their obsolete Walther P38.
The Austrian Armed Forces had several criteria for any handgun they would consider: semi-automatic, for starters, but also chambered for 9mm, able to fire 15,000 rounds without significant wear, and drop-proof at two meters.
Gaston Glock was already an authority on polymers, but he needed outside help to earn the big military contract. He assembled a dream team of Europe's handgun experts to make a lightweight and economical weapon. It needed to have three internal safeties, a high capacity magazine, and a simple design.
The new Glock 17 was submitted to the Austrian Armed Forces in 1982. They compared it to eight other handguns before adopting it as the P80, ordering 25,000 units.
Glock History in the U.S.
That Glock beat out five other established firearm manufacturers drew international attention. Our own Armed Forces, which in the early 80s sought to replace their M1911, asked about the Glock 17. Hoping to catch the biggest fish in the sea, Glock sent the U.S. four sample handguns, but unfortunately it didn't work out for them. The Beretta M9 became our military's new standard sidearm in 1986.
That missed opportunity didn't slow Glock down. The company opened its U.S. headquarters in Smyrna, Georgia that same year, bolstered by Norway and Sweden's armed forces adoption of the Glock 17. The Glock 17 became a NATO-classified sidearm, and within five years sold about 350,000 models worldwide. Most of those handguns wound up right here.
Glock Vilified in the Media
Public ignorance about firearms did slow Glock down back when they first opened up shop in America. In 1986, the media reported that Libya wanted Glock 17s, which assigned "evil" to the handguns by association.
Anti-gun lobbyists reasoned that the polymer-framed pistol was perfect for terrorism because a metal detector couldn't detect it. They overlooked the fact that a Glock 17 contains about a pound of steel, and metal detectors go bonkers when you walk through one while carrying pocket change.
Fortunately Congress was led to understand that a Glock 17 is no less undetectable than any other big chunk of metal before it enacted a gun ban.
Glock Perfection: Future Generations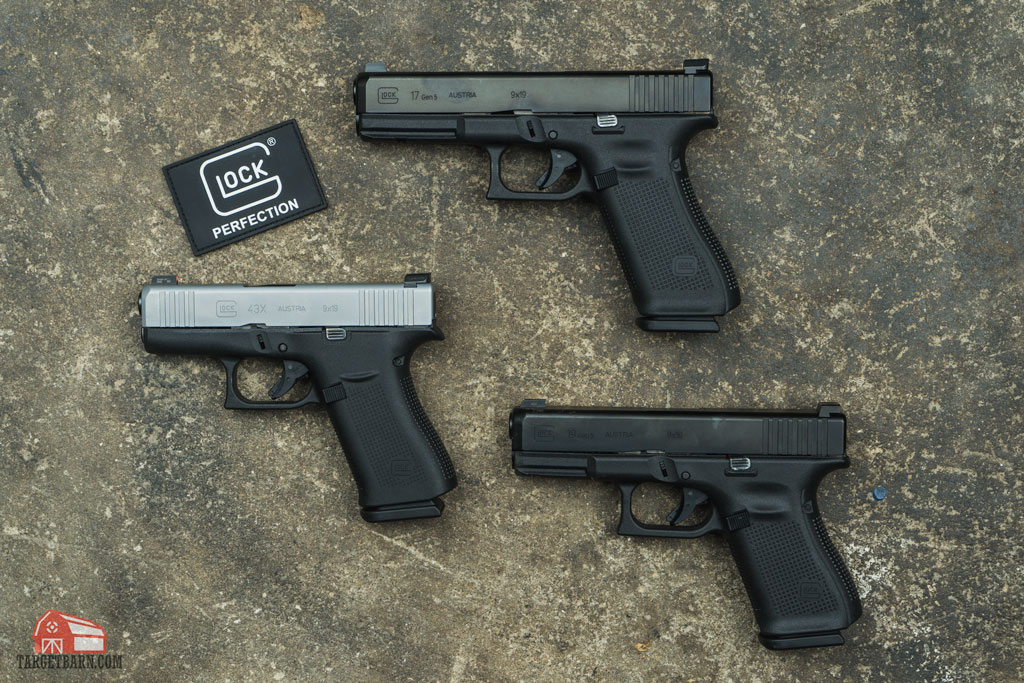 Glock's handgun design would see many updates over the coming years. By 2010 these included the addition of a serial number plate, an integrated recoil spring assembly, a loaded chamber indicator, ambidextrous slide stop levers, improved ergonomics, and other performance enhancing features. Glock announced the design's fifth generation  in 2017, it's currently available in several models.
Glock's pistol is highly popular for many reasons. The modern models have only 35 parts on average, making them reliable and easy to maintain. Glock's polymer frame is renowned for its durability and light weight, although Glock is by no means the only manufacturer that implements polymer anymore. A Glock handgun's low bore axis contributes much to its relatively gentle recoil, one of many reasons why it's so easy to use.
Glock handguns have their detractors, of course. A Glock's stock plastic sights are often condemned as cheap junk in need of immediate replacement. Several shooters consider its grip uncomfortable as well. Many just don't like to see polymer anywhere on their firearm — M1911 fans, to name a few.
Glock's Success
But Glock's functional design, virtual omnipresence, clever marketing, and sheer name recognition ought to be enough to ensure they will stay around for many generations to come. Today, over 65 percent of America's law enforcement agencies are issued Glock handguns. At least 48 other countries' governments issue Glocks as well, and the company now rakes in approximately $400 million per year.