Each January, tens of thousands of professionals in the shooting, hunting, and outdoor industry meet in Las Vegas for the National Shooting Sports Foundation's SHOT Show. With over 1,600 companies occupying booth space, SHOT Show 2020 was a great place to catch up on the newest products.
We had a great time in the city that never sleeps (and only lost a little bit of money on the slots). We've pulled together some cool, new products that might appeal to competition shooters. We hope you enjoy a look at the latest and greatest in the industry from SHOT Show 2020!
SHOT Show 2020 Pistols & Pistol Accessories
The new pistols and pistol accessories that appeared at SHOT Show 2020 show some real innovation in the industry. While one company melded two popular platforms into one gun, another company introduced an entirely new pistol design that is turning heads. We've rounded up some new pistols and pistol accessories we thought you might find interesting.
Dan Wesson DWX
What happens when you combine the ergonomics and magazine capacity of a CZ with the single action fire control group of a Dan Wesson 1911? The Dan Wesson DWX. 
Designed to shine in USPSA Limited division, the Dan Wesson DWX is available in 9mm and .40 S&W and utilizes magazines based on the P-09/P-10F. It uses standard aluminum CZ 75 grips and is compatible with 75 series magwells. Taking the best features of each platform, it uses the CZ-style takedown with a bushing-less barrel system, making for easier disassembly. The customizable sights use a 1911-style dovetail front sight and CZ Shadow 2 style rear sight cut.
While 2011's dominate USPSA Limited division, the DWX's MSRP of $1,799.00 and affordable magazines may draw appeal from 2011 shooters. Dan Wesson has also released a compact version utilizing the CZ 75 Compact magazines.
Nighthawk Custom 1911 Drop-In Trigger
The Nighthawk Custom 1911 Drop-In Trigger System, or DTS, is the first of its kind product. It allows shooters to upgrade their 1911 triggers without the help of a gunsmith. The new trigger system will fit most 1911's and 2011's, bringing the trigger pull down to a crisp 3 and a half to 4 pounds.
The DTS replaces your existing hammer, hammer strut, sear, disconnector, and sear spring in an all-in-one unit. Installation of the DTS is simple enough that "Kitchen Table Gunsmiths" and those with minimal gunsmithing skills will be able to do the upgrade themselves. 
The inventor of the DTS, Mark Dye, is the Director of Gunsmithing at Montgomery Community College in North Carolina, and has had the design for nearly a decade. His vision was to create a drop-in trigger that allowed shooters to have a high-quality trigger job without having to send their gun off to a gunsmith. For competition shooters, he sees the DTS as a way to carry a back-up trigger at matches and have a consistent trigger among match guns and back-up guns.
The Nighthawk Custom Drop-In Trigger System has an MSRP of $299.99. Nighthawk released a full line of 1911 Drop-In Series parts along with the trigger system, pushing the 1911 customizability market towards that of the AR-15 platform.
Heckler & Koch VP9 2020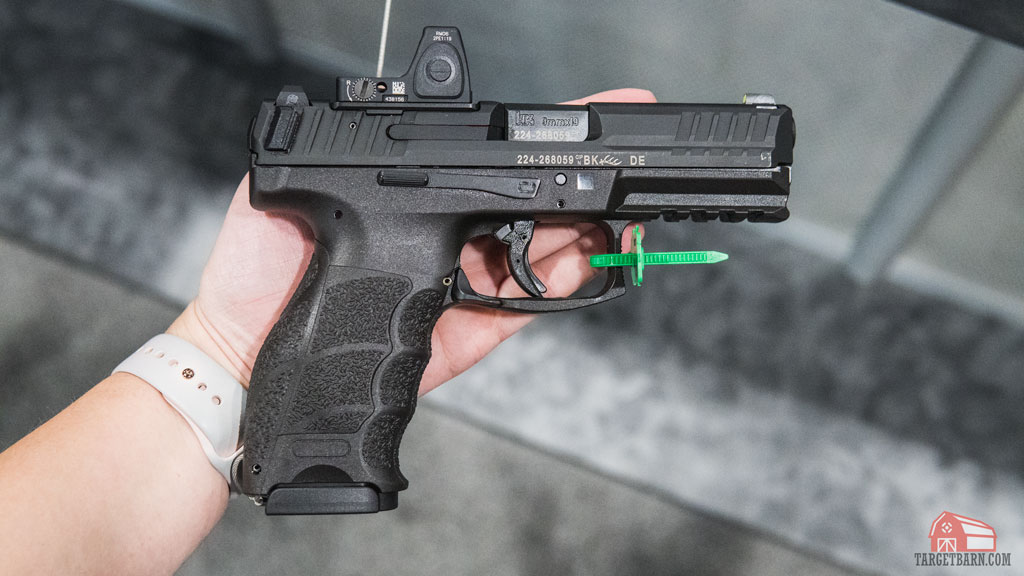 Although not necessarily a new gun, Heckler & Koch has updated its striker-fired VP9 pistol for 2020. 
All 2020 VP9's will ship out with 17-round magazines, a 2-round increase from previous versions. The sights have also been upgraded. The new sight configuration includes a high-visibility front sight and a black serrated rear sight.
The most exciting upgrade, however, is that all 2020 VP9s will include optics-ready cuts. With USPSA Carry Optics division on the rise, H&K is ensuring that VP9 lovers will have the opportunity to mount a red dot without any additional gunsmithing. While not included with the gun, five different adapter plates are available on the H&K web store. The new VP9's will feature the magazine paddle release H&K is known for and retain the fully ambidextrous features of the previous VP9's.
The 2020 VP9 has an MSRP of $799.00.
Laugo Arms Alien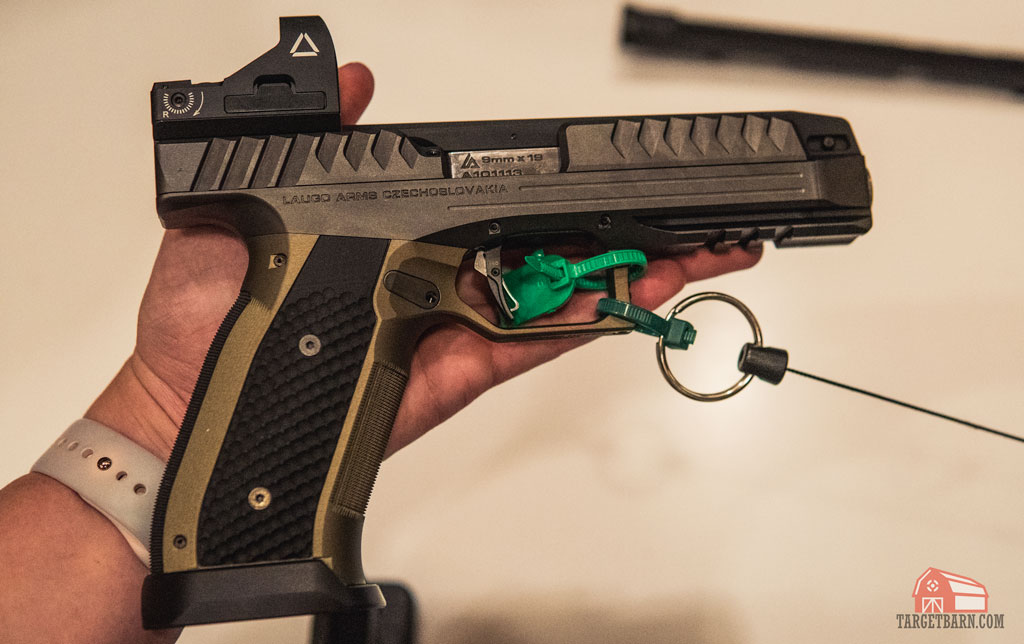 The Laugo Arms Alien has been available on the foreign market for a while, but is soon to make its U.S. debut. The Alien is touted as a revolutionary design and is unlike anything the pistol market has seen. 
Features include extremely low bore axis, fixed barrel, and gas piston delayed blowback function. It uses a single action internal hammer for a light, crisp trigger pull. The slide is interchangeable so you can easily switch between red dot and iron sights.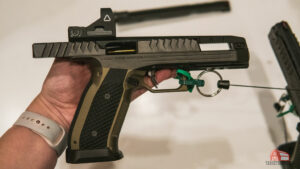 The slide reciprocates only on the sides, allowing for an optic that does not move with the slide. While its design allows for extremely flat shooting as it is, the company says it is coming out with a frame-mounted compensator. It's chambered in 9mm, and performs best with the high-pressure 9mm Major ammo. Laugo is also working on magazine extensions to fit within the 170mm USPSA requirements.
Because of its innovative, new design, the company has had to create work-arounds to make its pistol legal in different competition divisions. For example, it developed the IPSC RETRO PDO Red Dot from suggestions from the IPSC technical committee. This mounts the optic onto the reciprocating part of the slide for Production Optics.
The first batch of Signature Edition Aliens are being imported into the U.S. and available for pre-order for a mere $5,000. The standard model will retail for less once available.
CZ Shadow 2 Single Action
There are many shooters who have converted their CZ Shadow 2 DA/SA gun to single action only. CZ might have caught on to this, because this year they have updated the Shadow 2 line with a single-action variant. Shooters can enjoy all the great features of the 9mm Shadow 2, but now with a short, crisp trigger pull.
While not legal for USPSA's Production division, it's a great fit for those wanting to dabble in Limited Minor as well as Steel Challenge. The SA pistol keeps the Shadow 2's swappable and adjustable mag release. It also continues to utilize a fiber optic front sight and serrated, black, adjustable HAJO rear sight.
The CZ Shadow 2 SA has an MSRP of $1,349.00.
Ruger Super GP100 9mm
Ruger is hoping that Revolver division will make a comeback in 2020 with the release of the Super GP100 in 9mm.
This Minor power factor, 8-shot wheel gun boasts a six inch barrel and is designed with competition shooters in mind. Features include a triple-locking cylinder, adjustable rear sights, fiber optic front sight, polished internals, and a Hogue hardwood grip. The cylinder and extractor are cut for moon clips to aid in quick reloading. 
The Super GP100 ships with three moon clips and comes in at an MSRP of $1549.00.
SHOT Show 2020 Pistol Caliber Carbines's & PCC Parts
Love them or hate them, PCC's are here to stay. It's safe to say that the PCC division in USPSA continues to grow as has the PCC market offerings. We rounded up some new PCC's and PCC upgrades featured at SHOT Show 2020 for all of you who like to shoot rifles at a pistol match! (Just kidding – we're PCC friendly!)
Tandemkross Ruger PC Carbine Upgrades
The Ruger PC Carbine is gaining popularity among shooters who want an affordable PCC. Tandemkross has jumped in with upgrades to make it competitive in USPSA and Steel Challenge PCC division.
Basic upgrades available include a flat trigger, an extended magazine release, a fiber optic front sight, and a 9mm compensator.
Other big upgrades include:
Charging Handles – Tandemkross has two new charging handles that can be used independent of each other, or paired together:

"Spartan" Charging Handle – A long, curved charging handle that is fully ambidextrous and features a light, skeletonized design.

The Tandemkross Titan Extended Magazine Release and the Challenger Charging Handle.

"Challenger" Charging Handle – A cone shape that allows easier pick up during table starts at matches; it also features multiple rubber O-rings for a better grip and is fully ambidextrous.

"Shadow Mount V2.0" – The Shadow Mount V2.0 is a low-profile mount that mounts directly to the barrel. It is compatible with many popular optics.

"Upriser" Chassis – The new chassis for the PC Carbine is designed for compatibility with standard AR-15 parts. It includes an extended magazine release, angled stock, flared magwell, and compatibility with many other Tandemkross parts.
While the Upriser Chassis is not yet available, Tandemkross is already selling many of these new parts. If you're looking to upgrade your Ruger PC Carbine, these new offerings from Tandemkross are worth a try.
Hiperfire PDI Trigger
Just before SHOT, Hiperfire announced a new, competitively-priced drop-in trigger for PCC's and AR's. The PDI Family of triggers are designed to withstand the abuse of blowback PCC's while giving a nice, 2lb trigger pull. The hammer is designed for hard, milspec hammer strikes so you don't have to worry about lightstrikes. 
The single stage trigger has three color options and many other Hiperfire features. Hiperfire has also included a Sig MCX-compatible trigger in the line-up: the PDI MCX!
The MSRP of each trigger in the PDI Family of triggers is $180, an affordable option if you need a quality drop-in trigger.
Black Rain Ordnance BRO PCC 9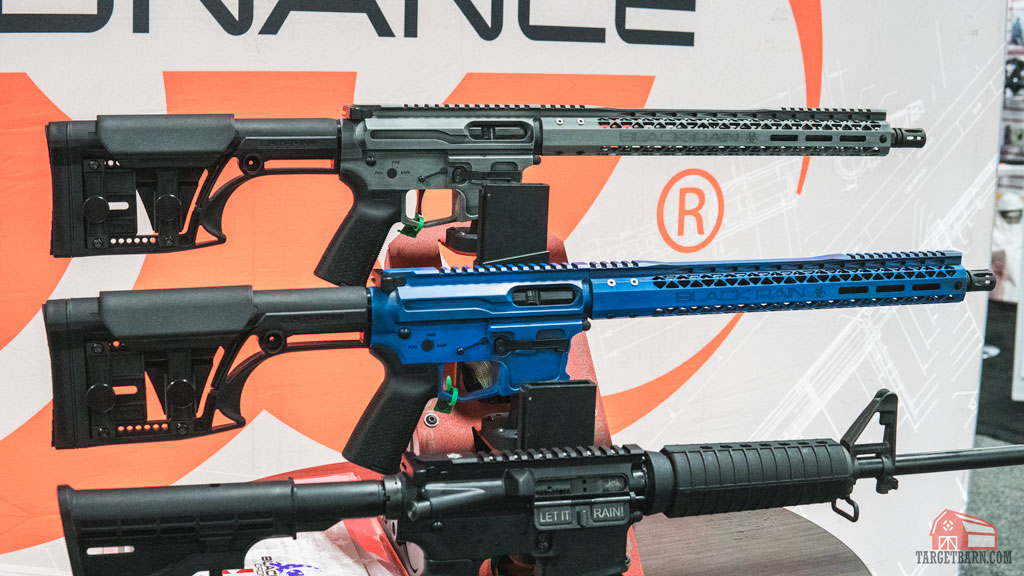 Black Rain Ordnance has manufactured AR-15 guns and parts since 2009. This year, the company debuted its latest addition to the lineup: the BRO-PCC-9.
Designed for competition shooters, the BRO-PCC-9 comes in at 6lbs. 6 oz., featuring 16 inch 1:10 9mm barrel. It ships with the BRO 2-stage drop-in trigger, 15″ MLOK handguard, Luth-AR MBA-3 stock, BRO Forged Charging Handle with oversized Tac Latch, and Magpul MOE grip. In classic Black Rain Ordnance style, the PCC is available in many different color options.
MSRP of the BRO-PCC-9 is $1,729.00.
Magpul PMAG D-50 GL9 PCC & D-50 EV9
Magpul stirred up the anticipation when they announced they would be releasing over a dozen new products for SHOT Show 2020. PCC shooters will be glad to see that this announcement included two new 50-round PCC drums: the DL9 for Glock mag-accepting PCC's and the EV9 for the CZ Scorpion EV9. We already knew that PCC shooters hate reloading, and Magpul is now the ultimate enabler.
The new D-50 includes a ratcheting loading lever that removes pressure from an internal spring so you have no trouble loading up 50 rounds. The design of the drum includes a manageable magazine length for prone shooting. It should be noted that the GL9 is not compatible with Glock pistols.
Both versions have an MSRP of $120.
Overall, it seems like it was a strong year for new products competitive shooters will care about. It'll be interesting to see what shooters embrace and what's gone as time passes.