Mounting red dot sights to a pistol slide isn't a new trend, but in the past few years has become extremely popular. Every major manufacturer offers a solution for mounting a red dot to whatever their flagship pistol is, and many include multiple different guns in their lineup. There are red dots on big guns, little guns, and one savage even put a red dot on a revolver.
Today we're going to take a look at the best pistol red dot sights and what you need to know when choosing one.
Why Choose Red Dot Sights?
Just like with red dots sights for rifles, every pistol shooter can benefit from mounting a red dot sight to their gun. Some shooters will see immediate benefits, like people with aging eyes. Everyone will benefit from mounting a red dot sight for one important reason: staying target focused.
To elaborate on this idea, guns are the only weapon in human history that requires us to NOT look at the target. Melee and contact weapons? Look at the threat. Thrown weapons? Look at the threat. Slings and arrows? LOOK AT THE THREAT. And then guns came along, and we said "these are weird look at the bumpy thing on the front of the gun." With red dot sights on pistols (and lasers as well but that's a different post) we can go back to doing what millions of years of evolution have taught us: look at the threat.
There are tons of other benefits to mounting a red dot sight. The other immediate benefit is greater accuracy when shooting at hard to hit targets. If a shooter has solid fundamentals, they'll be more accurate right out of the gate with a red dot equipped pistol. A red dot provides finer feedback during aiming, which leads to better accuracy.
Best Pistol Red Dot Sights – What to Look For
The number 1 requirement for a red dot pistol sight is that it must stay mounted! In the early days of red dots on handguns, the optic would often come loose from the slide due to the high g-forces. Or they would lose zero, or simply have their internals shaken to death. Regardless, it must stay on the gun first and foremost. This is a function of both the dot and its mounting system. This is why I personally prefer the Aimpoint ACRO for my handguns.
Secondly, it must be durable enough to hold zero for extended range sessions. It also must be strong enough to withstand the battering of every day carry in a concealed or duty holster. Carry guns and duty guns get banged into car doors, counter-tops, and all sorts of things. If your optic won't keep zero after getting whacked around a bit, it's not strong enough. 
A lot of other stuff comes down to personal preference. For example, I like that my red dot sights have manually adjustable brightness. Some people like automatic brightness. I prefer that my red dot is constantly on, even when the gun is holstered, and some people prefer "shake awake" red dots. I much much prefer closed emitter dots like the Aimpoint ACRO, other people prefer an RMR-style open emitter.
What is MOA and What MOA Do You Need?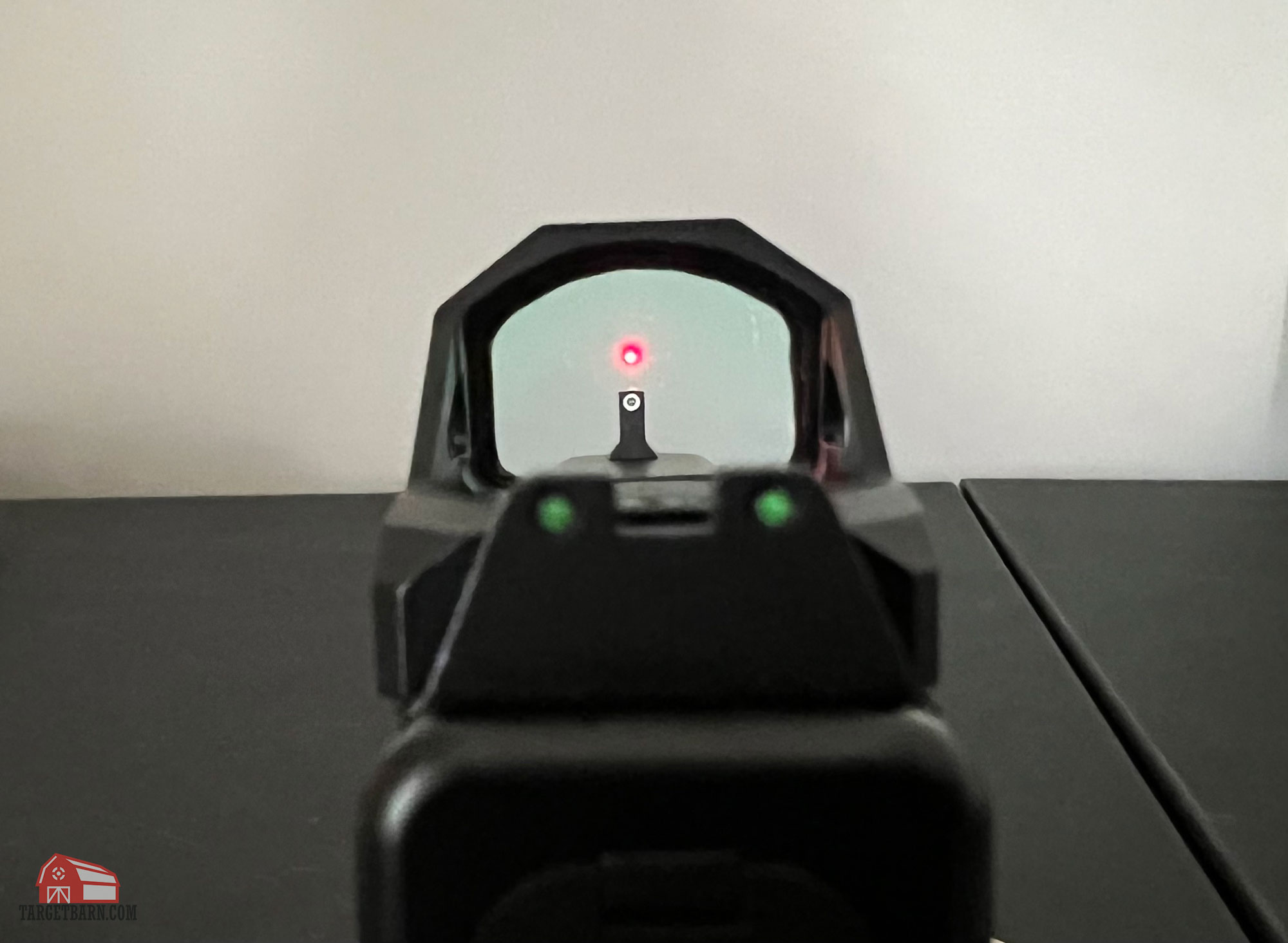 How big your dot should be is a topic of much internet debate. MOA refers to the dot's size in minutes of angle, which means how much of the target it covers at various distances. Most people, myself included, prefer dots with smaller visual dot size (in MOA).
A smaller dot provides more refined feedback for aiming, which allows for greater accuracy. But if you go too small, the dot can provide excess feedback. Very small dots under 2 MOA can make a shooter try to correct for too much natural movement. Personally, I like a dot around 3.5 MOA.
However, there's an argument to be made for bigger dots, like the triangle reticle in early Deltapoint sights, or the red ring of death in the Holosun. A larger aiming area in MOA will show less wiggle, which means you're less likely to try and overcompensate for the dot's movement. They can still be used for precise aiming by using the top edge of the red dot/ring. In the case of the Holosun optics, you can set it to have the large MOA ring with a small dot in the center, to get the best of both worlds.
Red Dot Pistol Sights
Before we take a look at our selection the best pistol red dot sights, we've compiled a list of popular red dots to help make your shopping easier. Disclaimer: This table contains affiliate links, meaning we receive commissions to help us pay for testing on the gear mentioned here on our blog.
| Red Dot | Weight | Battery Life | Dot Size | MSRP |
| --- | --- | --- | --- | --- |
| Aimpoint Acro | 2.1 oz | 15,000 hours | 3.5 MOA | $599 |
| Burris Fastfire 3 | 1.5 oz | 5,000 hours | 3, 8 MOA | $299 |
| Crimson Trace CTS 1550 | 1 oz | 20,000 hours | 3 MOA | $179.99 |
| Holosun 507C X2 | 1.5 oz | Up to 50,000 hours (setting 6) | 2 MOA | $364.69 |
| Holosun 507K X2 | 1 oz | Up to 50,000 hours (setting 6) | 2 MOA dot | $341.16 |
| Leupold Deltapoint Pro | 1.94 oz | 1,000 hours (medium intensity) | 2.5 MOA | $449.99 |
| Sig Sauer Romeo Zero | .4 oz | 20,000 hours | 3,6 MOA | $219.99 |
| Swampfox Optics Liberty & Justice | 1 oz | 4,000 hours mid range brightness) | 3 MOA | $229-239 |
| Swampfox Sentinel | .62 oz | 17,520 hours | 3 MOA | $249 |
| Trijicon RMR Type 2 | 1.2 oz | 35,040 hours (brightness level 4) | 1.0, 3.25, 6.5 MOA | $699 |
| Trijicon RMRcc | 1 oz | 35,040 hours | 3.25 or 6.5 MOA | $699 |
| Trijicon SRO | 1.6 oz | 26,280 hours (level 4) | 1.0, 2.5, 5.0 MOA | $749 |
| Vortex Razor | 1.3 oz | 150 (highest setting) to 30,000 hours (lower settings) | 3, 6 MOA | $499.99 |
| Vortex Venom | 1.1 oz | 150 (highest setting) to 30,000 hours (lower settings) | 3, 6 MOA | $349.99 |
| Vortex Viper | 1.1 oz | 150 (highest setting) to 30,000 hours (lower settings) | 3, 6 MOA | $349.99 |
Best Pistol Red Dots for Self Defense
First let's look at our top three picks for best pistol red dot sights for self defense.
Trijicon RMR
Aimpoint ACRO
Holosun 507C X2
Trijicon RMR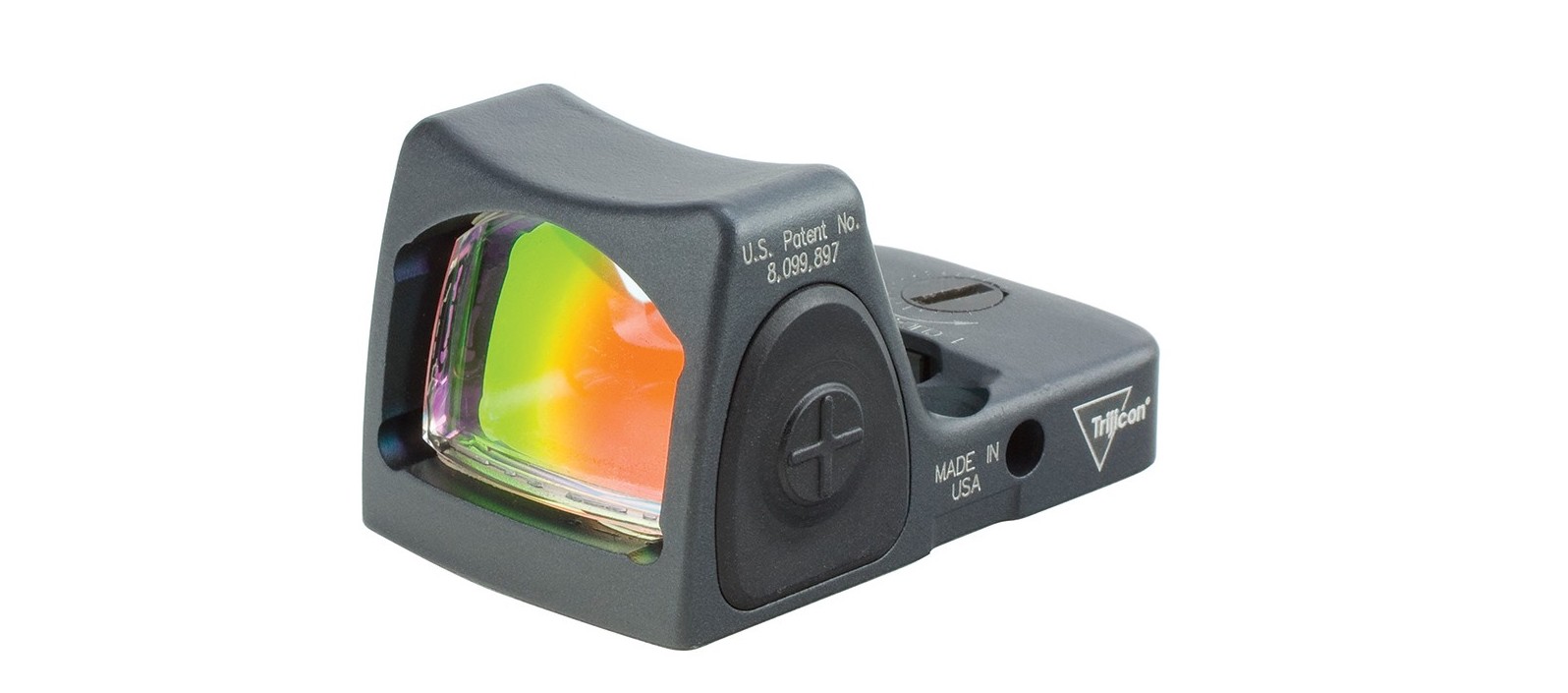 The Trijicon RMR is the industry standard red dot, and it's massively popular for a reason. It's been rigorously tested for years, is tough as nails, and every single company makes mounting plates for it.
Aimpoint ACRO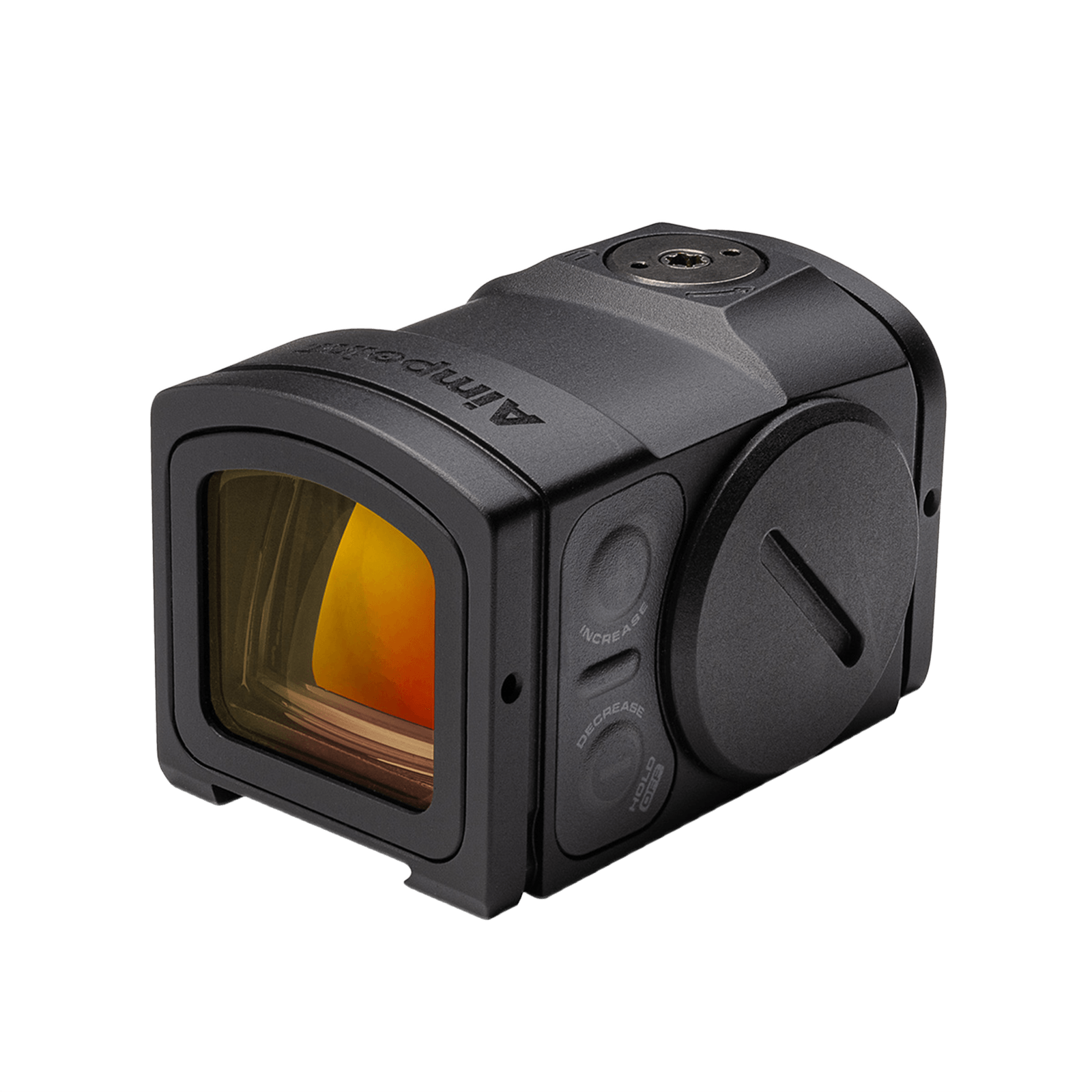 The only reason the Aimpoint ACRO isn't #1 is because the P-2 model, which increases the battery life by using the same battery as an RMR, isn't readily available. The P-1 is, which I have mounted on 4 of my guns, but it definitely has a shorter battery life than other optics. Aimpoint measures it in 15,000 hours of constant on time, which is a lot less than you'd get from an RMR.
Holosun 507C X2
The RMR's greatest challenger comes from Holosun in the form of the recently upgraded 507C model. Holosun's optics offer similar durability and battery life to the Trijicon optics at a fraction of the cost.
Best Pistol Red Dots for Competition
Next we'll look at our picks for competition red dots for pistols.
Leupold DeltaPointPro
Trijicon SRO
Vortex Venom
Leupold DeltaPoint Pro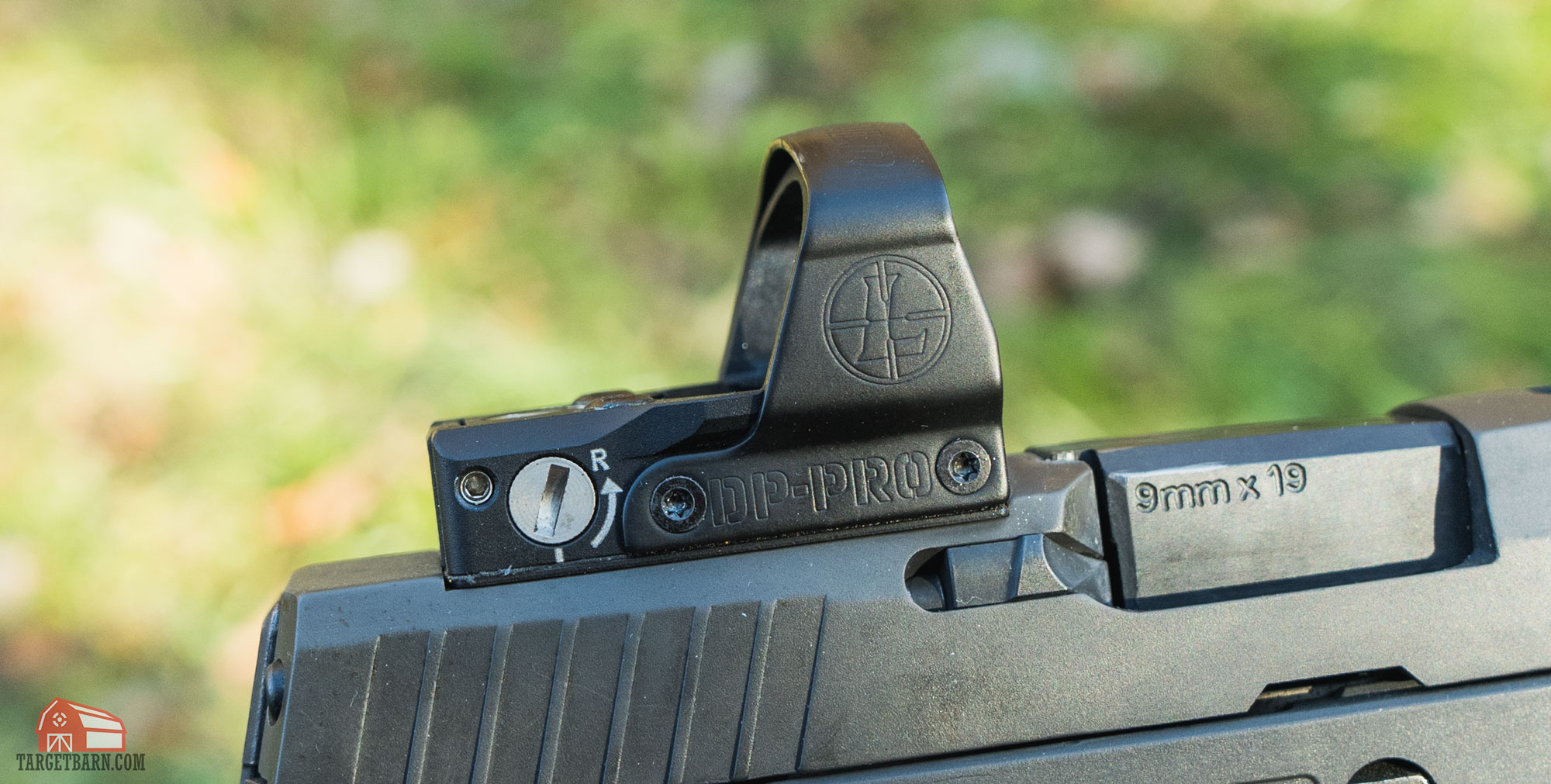 The Leupold DP Pro has a huge viewing window, which is perfect for competition applications. It gives the shooter a much wider field of view than other optics, which assists in transitioning the gun from target to target.
Trijicon SRO
Trijicon's answer to the DP Pro is the SRO, or Specialized Reflex Optic. The SRO has the largest window of Trijicon's pistol optics, but does sacrifice some of the RMR's durability to achieve this.
Vortex Venom
Coming in at $350, the Venom is our affordable competition red dot. Its small profile and wide window make it a great option for shooters on a budget, while still offering tremendous reliability and increased speed.
Best Red Dots for Glock
With the popularity of optics ready Glocks, known as the Glock MOS, we'll now look at the best red dots for Glocks.
Aimpoint ACRO
Trijicon SRO
Swampfox Liberty and Justice
Aimpoint ACRO
Glocks are often carried as duty guns. They deserve an optic that's just as durable as the gun. The Aimpoint ACRO is the toughest red dot of all the ones listed here. It will survive any beating that the gun may take.
Trijicon SRO
Looking for the perfect dot to top your Glock 34 in USPSA or IDPA's carry optics division? The competition ready Trijicon SRO is the choice for you, combining a huge optic window and tremendous battery life.
Swampfox Optics Liberty and Justice
Want a solid red dot but don't want to break the bank? Check out the Liberty and Justice, two options from relative newcomer SwampFox. These optics offer an affordable solution that is compatible with any RMR-style mounting plate.
No matter what your choice of red dot is, or whether it's for competition or concealed carry, adding a red dot sight to your pistol will bring you immediate benefits. More accuracy, faster first shots, and the ability to stay target focused are all worth the investment of time and money to master the dot. Once you have purchased your pistol red dot, let us teach you how to sight in a red dot optic so that you're zeroed in for range time.