When shopping for a red dot to mount on your pistol, you'll likely come across the Vortex Venom as an option. Its affordability may have you asking if it's a reliable red dot or just junk. This Vortex Venom red dot review should help you answer that question. 
I've put thousands of rounds through a Venom mounted on my Smith & Wesson M&P CORE in training and at local and state USPSA matches. Keep reading for my full Vortex Venom red dot review.
Vortex Venom Red Dot Review: Features and Specs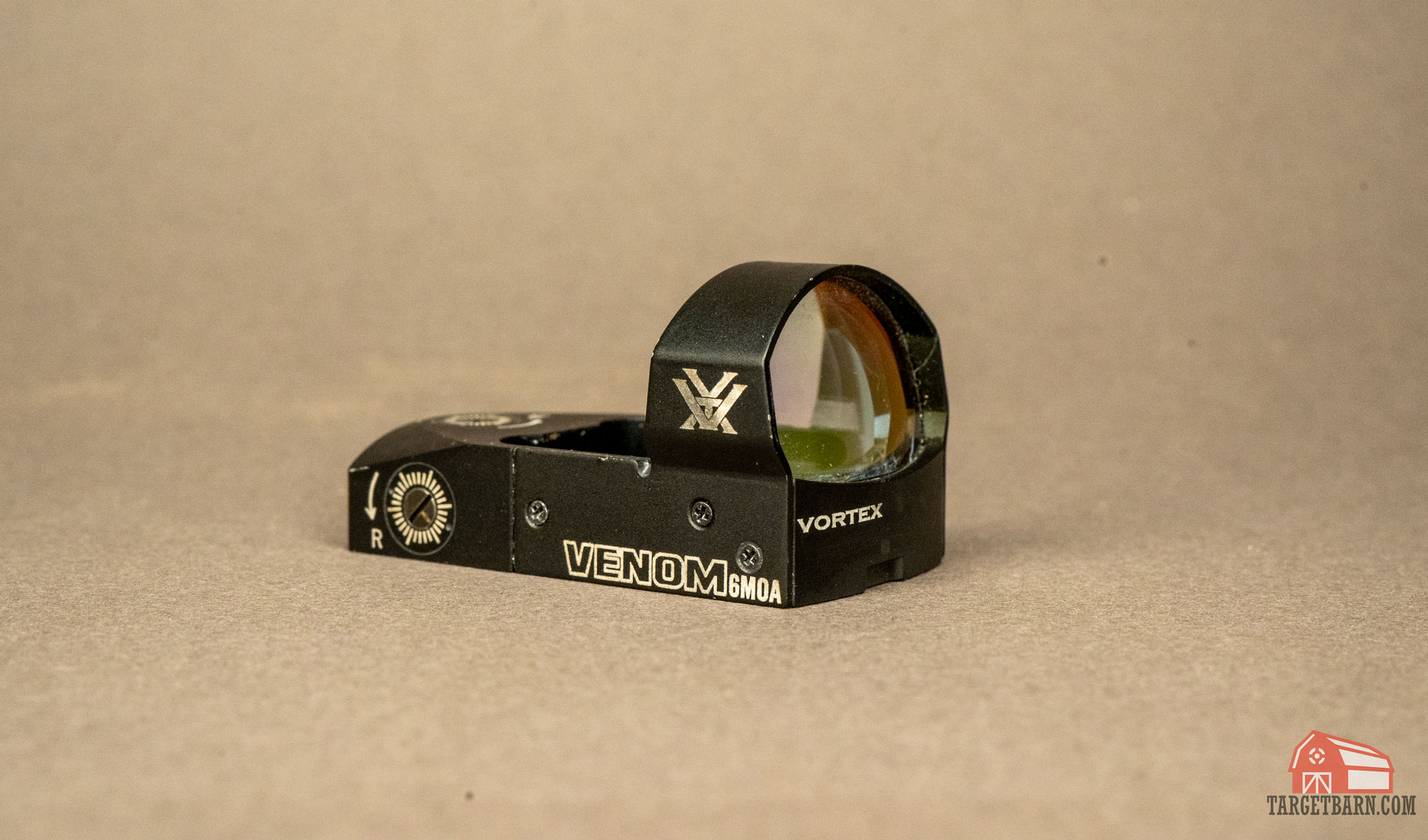 Disclaimer: This article contains affiliate links, meaning we receive commissions on purchases to help us pay for testing on the gear mentioned here on our blog.
| | |
| --- | --- |
| | Vortex Venom |
| MSRP | $349.99 |
| MOA | 3 MOA, 6 MOA |
| Battery | CR 1632 |
| Battery Life | Up to 150 hours on highest setting |
| Mount | Weaver/picatinny |
| Magnification | 1x |
| Dot Color | Bright red |
| Eye relief | unlimited |
| Adjustment graduation | 1 MOA |
| Max Elevation Adjustment | 130 MOA |
| Max Windage Adjustment | 100 MOA |
| Parallax Setting | Parallax Free |
| Waterproof | yes |
| Shockproof | yes |
| Weight | 1.1 oz |
| Length | 1.9 inches |
| Width | 1.11 inches |
| Height to top of window | 1.02 inches |
| Window glass dimensions | 26.4 mm wide x 16 mm tall |
The Vortex Venom is a lightweight red dot with an aluminum housing. It has a matte anodized finish which Vortex claims is corrosion and wear resistant. The O-ring seals prevent moisture, dust, and debris from altering the dot's performance.
As for the optical features, it comes in 3MOA and 6MOA. It also has an automatic brightness adjustment, or 10 brightness levels in manual mode. The automatic brightness will shut off after 14 hours to save battery life. On the highest setting, the battery will last up to 150 hours, and up to 3,000 hours on lower settings according to Vortex.
In our previous comparison of the Vortex Venom vs. Viper, we mentioned that the Venom has the advantage of easy battery replacement. You don't have to remove the entire optic to replace the battery. This is nice when you need to swap to a fresh battery while out on the range.
It's an affordable red dot option, with an MSRP of $349.99, but shops often sell it for much less than that.
Mounting and Installation
The Vortex Venom can be mounted directly to a milled slide or on a Picatinny/Weaver rail with the included mount. If your gun does not already come with different mounting plates, you may need to purchase one in order to mount it. The footprint of the Venom is the Docter/Noblex standard, which is one of the most widely used standards for mounting in the red dot sights field, with other optics like the Burris Fastfire III using it.
Durability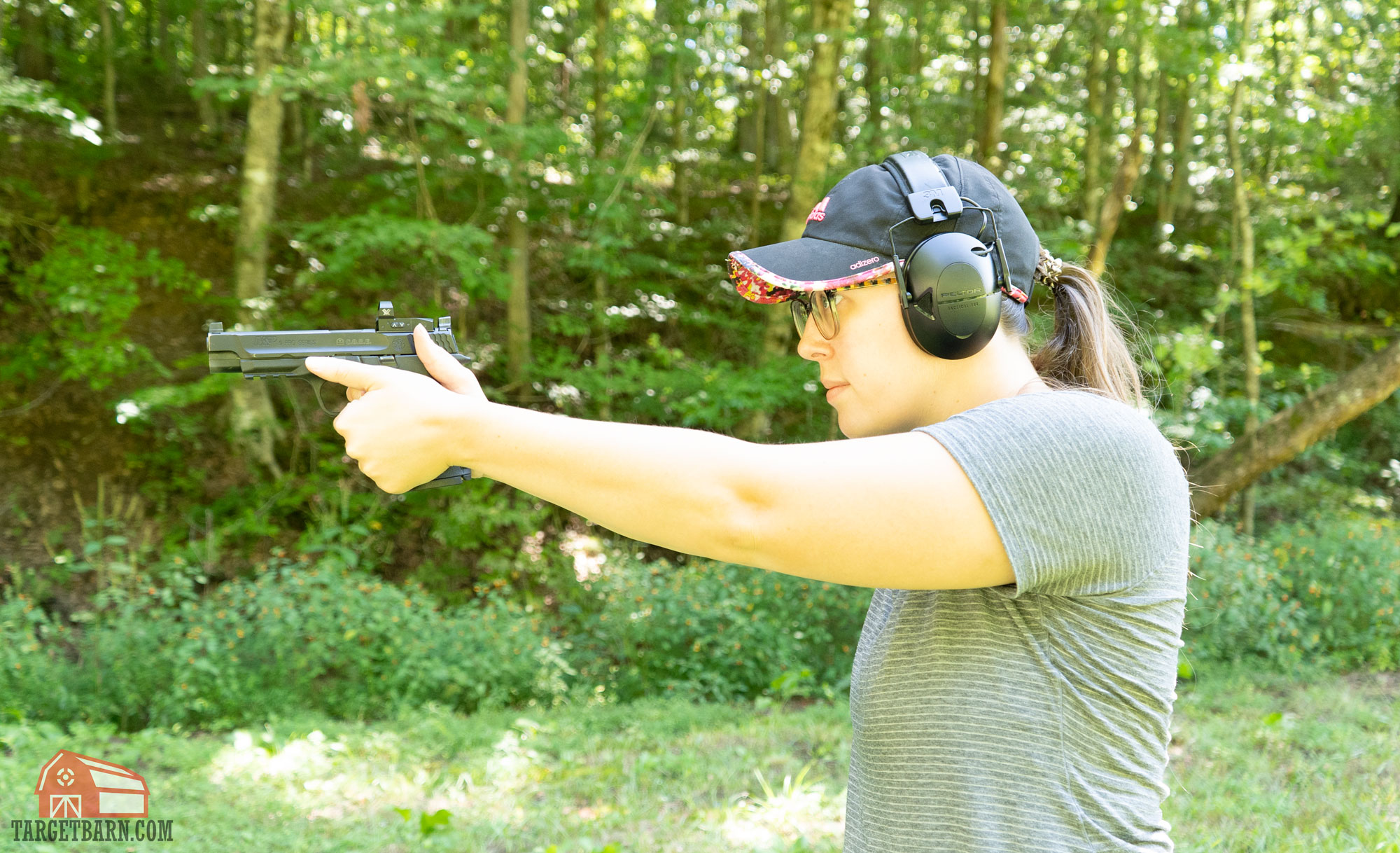 Over the course of thousands of rounds in training and at matches, the Venom held up for me. However, all it takes is a quick Google search to see that not everyone has had the same experience. Shooters who are putting thousands of rounds downrange each month might find that the Venom doesn't hold up like the higher-quality red dots on the market.
All optics can break, especially if you're putting a lot of rounds down range. When I had issues with a Vortex Viper just weeks before a major match, Vortex was quick to replace the red dot for no charge. Vortex is known for their customer service and unlimited lifetime warranty. Unlike some companies, they won't hassle you if you need to repair or replace one of their products.
Glass Clarity and Reticle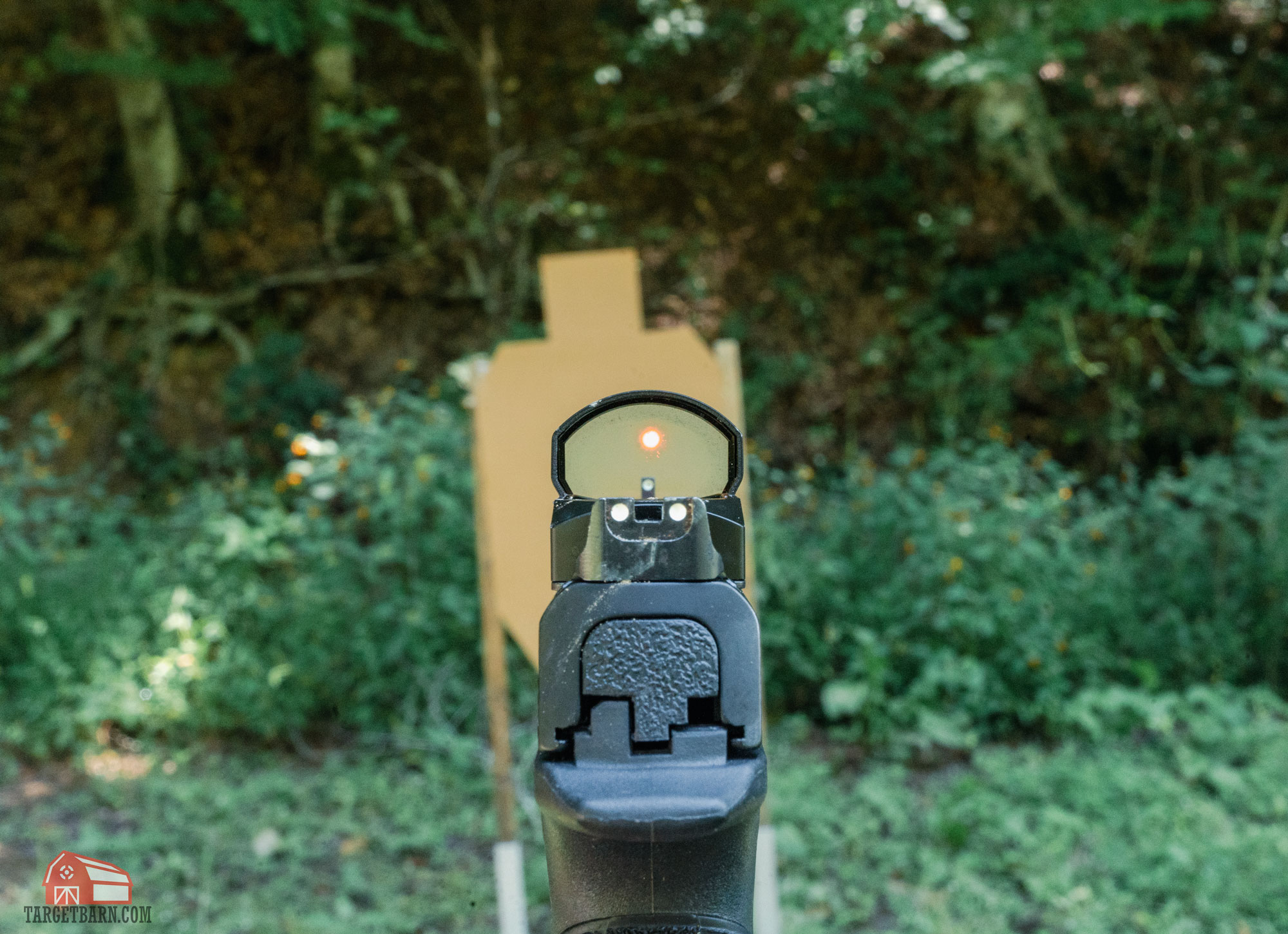 The glass on the Venom is fully multi-coated with multiple anti-reflective coatings that increase light transmission. Under very bright conditions, there is occasionally a glare in the glass and the dot can appear washed out.
The Venom is available in both 3MOA and 6MOA dots. The bright red dot is clear and easy to pick up when switching between targets. When shooting stages facing into the sun, I was still able to pick up the dot, which I found to be clearer than the dot on the Vortex Viper under the same conditions.
One thing I really don't like about the Venom is adjusting the elevation and windage settings. To adjust them, you turn the dials up or down or left or right as indicated by the arrows. However, there are no noticeable "clicks" when adjusting them like you find on other red dots. In my experience, this makes it harder to get the adjustments just right.
Brightness Adjustment Buttons and Automatic Brightness Feature
The Venom has brightness adjustment buttons that protrude out from the optic, making them easy to manipulate. The up arrow also serves as the "on" switch, by holding the button until the dot appears. You hold the down arrow to turn off the dot. 
Switching the Vortex Venom to Automatic Brightness
To switch to automatic brightness, hold down on the up arrow until you see the dot flash three times. To engage manual mode, hold the up arrow until the dot flashes two times.
Automatic mode seems to adjust fairly well for the conditions. However, I prefer to manually adjust for my preferences using one of the ten brightness settings.
Vortex Venom Problems
One problem with the Vortex Venom that some shooters may find is that they are unable to sight in their Venom. They find this out when every shot they take hits low on the target. This happens even with the elevation knob maxed out in the up position. To fix this, you may need to buy a shim that is designed to fit between the optic and the slide or mount, like this one from UM Tactical.
Some shooters have also reported problems with putting the battery cap back on the dot when it has been removed. The problem seems to be that in some cases, the user must use a lot of downward pressure to replace the cap, and sometimes this strips the slot that is there to twist it closed.
Vortex Venom Red Dot Review: Final Thoughts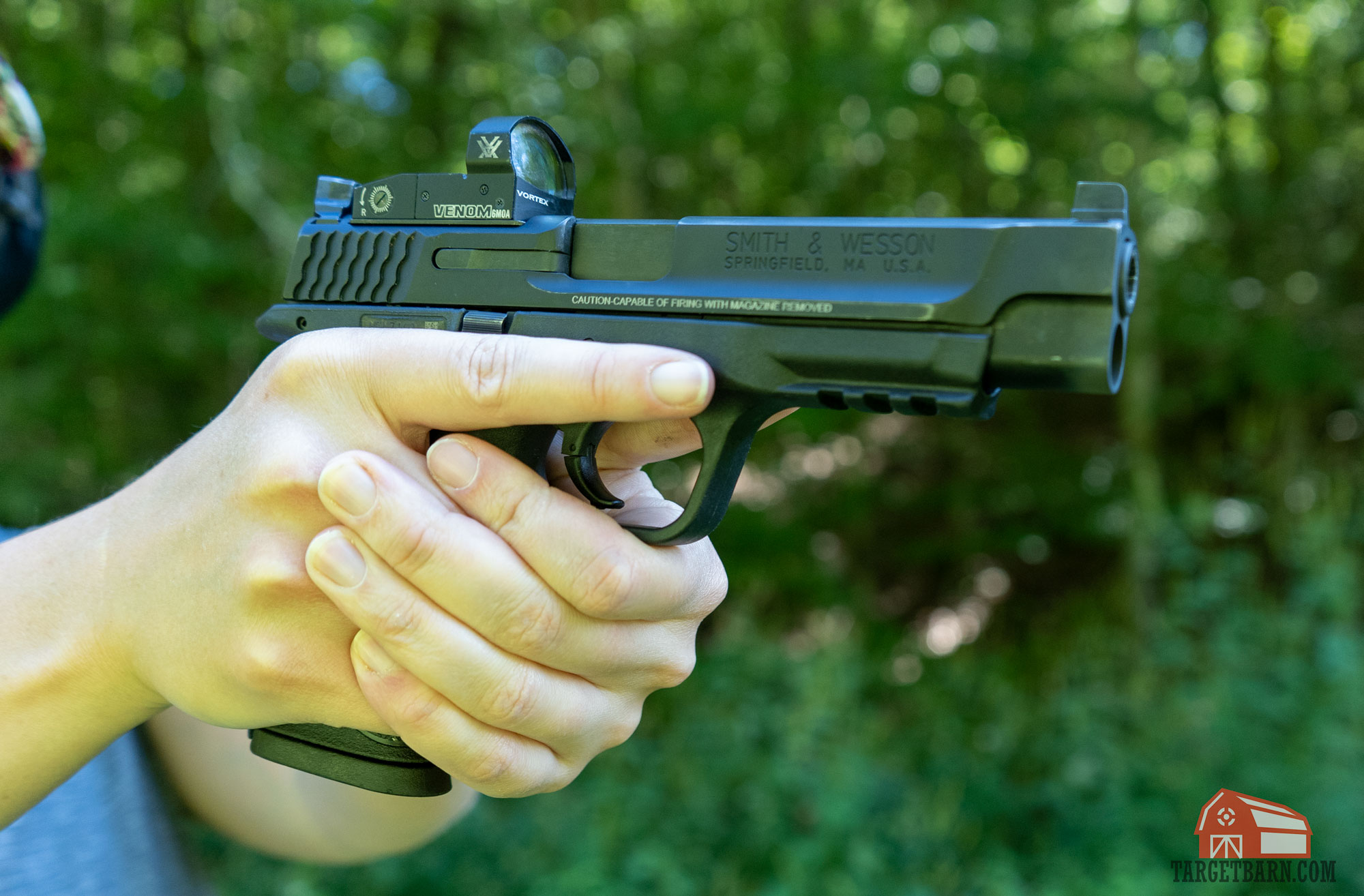 The Vortex Venom has served as a reliable competition red dot for Carry Optics in USPSA. However, if you look at the data from the 2021 USPSA Carry Optics Nationals Equipment Survey, only 6% of shooters were using an optic from Vortex, while 47% of shooters used a Trijicon.
As for everyday carry, I'm not yet sure that the Venom has proven itself to be a reliable choice. If you are only shooting a couple hundred rounds each month and can't afford proven dots like the Trijicon RMR and Leupold Delta Point Pro, then the Venom might fit the bill for you. For those wanting to shoot a red dot for fun at the range and at local matches for an affordable price, the Vortex Venom is a great choice.